Third Test: South Africa v England
Venue: Newlands Stadium, Cape Town Date: Saturday, 23 June Kick-off: 16:05 BST
Coverage: Live radio and text commentary on BBC Radio 5 live, BBC Sport website and mobile app.
Danny Cipriani's England career so far could be considered one of under-achievement and wasted talent.
His dazzling debut against Ireland in 2008 is one of just four starts for England, and his total of 15 caps seems a scant return for a player who had the world at his feet as a 20 year-old.
But as Cipriani – who describes himself as more "stoic" these days – prepares to make his first start for his country in a decade, when England face South Africa in Cape Town on Saturday, his story should perhaps be viewed in a completely different way – as a heartening tale of determination and perseverance.
"2008 seems like just a minute ago," Cipriani told BBC Sport, adding: "Time is a man-made construct, so it is what it is.
"I wasn't really in the moment then. I was young and everything was going by me."
Cipriani to make first England start for a decade
Rugby Union Weekly: Wasted chances and Eddie Jones
Learning from his mistakes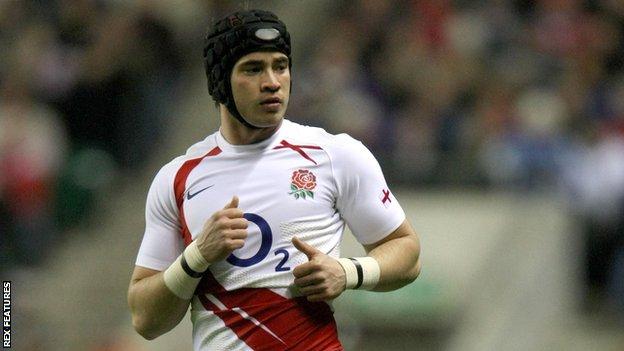 Cipriani's chequered journey is well-documented – his international career stunted by injury and indiscretion.
Visiting a nightclub in the middle of the Six Nations in 2008 cost him an England start, and he then suffered a broken leg months later. An escape to Australia followed, with more headlines for the wrong reasons.
"I just wanted a break from England at the time, I wanted to experience a different culture and lifestyle," he explained on Thursday. "But I was always going to come back.
"Each year along the way there has been plenty for me to learn, and now I'm here I'm completely grateful. Could I have had this? Could I have that? I don't know. But right now the opportunity is ahead of me.
"The mistakes I've made, the lessons I've learned – I've tried to become a better person."
Former England winger Ugo Monye played alongside Cipriani in the autumn of 2008, and has followed his career closely since.
"Plenty came to Danny at an early stage, with lots of it because of his natural ability. But he has had to mature as a person, he has had to struggle, he has had to bounce back," Monye said.
Since returning to England in 2012, Cipriani's club form has been unquestioned, helping Sale to secure Champions Cup rugby and winning a place on the England tour of New Zealand in 2014.
But his chance to reassert his credentials on the international stage never quite came, either on that tour or the year after, when he missed out on Stuart Lancaster's World Cup squad.
A new coach arrived in Eddie Jones, but still the same theme, with George Ford and Owen Farrell commandeering the number 10 shirt, and Cipriani not quite trusted.
Perseverance and resilience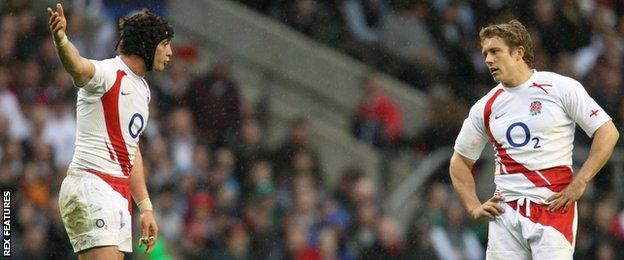 Given the numerous setbacks and the lack of real opportunity, no-one could have blamed Cipriani, now 30, if he had cut his England losses, headed to France, and just accepted that his face didn't fit.
"You do have doubts, but it pushes you harder to go and prove people wrong and keep showing what you've got," he said.
"You have those voices that come into your head. But it's about perseverance and resilience. It's about whatever your bigger picture is and to not lose sight of that. For me, it has always been about playing for England."
Persevere he did, first winning selection for the trip to South Africa; carrying tackle bags in Johannesburg, a handful of minutes in Bloemfontein, and now, finally, a treasured start at Newlands, as England look to salvage a disastrous few months.
"Danny has had to prove people wrong on and off the pitch, and I think he is in a great place now," Monye added.
"He is happy to talk about his previous struggles because he is so content now. As much as Danny is an incredible player, a maverick player, part of the legacy he wants to leave is that you have to persevere, you have to work hard, and nothing good comes easy.
"Speaking to him recently, those are the messages he wants to instil in others – that talent is never enough."
'The bus driver and the conductor'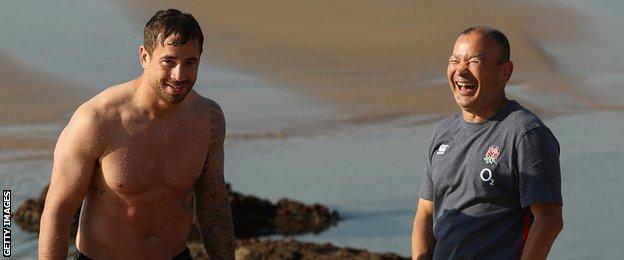 Cipriani's attitude, his Achilles heel to some of his coaches, has been "first class" on this trip, according to Jones.
"He has gone about his business, tried to improve his game, and he's been rewarded this week," said the England boss.
"Cipriani is not a young boy, he's been around the block. He's a lot more mature than he was, so he'll be able to adjust.
"He doesn't have to impress, just do his job. He's got to be the bus driver and the conductor."
Monye added: "On Saturday, we are going to see the talent of the man but also the development of his personality, which doesn't get spoken about a huge amount with Danny.
"You can't take anything away from the fact that he has been in the trenches, dug hard, with his tin hat on, been around the globe, to come back and find himself playing for England.
"That is testament to his character, his dedication, and his professionalism."
After five Test defeats in a row, the pressure is building on Jones; it would be some irony if a player for so long surplus to requirements now helped to preserve the head coach's position.
"This is the whole reason I have ever played rugby – to represent England," Cipriani said. "A lot has gone on [in the last 10 years], but I am hoping a lot more is going to go on in the next 10."
And while Cipriani and his supporters may think of what might have been with England, they should also reflect with great pride on his refusal to slope off quietly into the wilderness.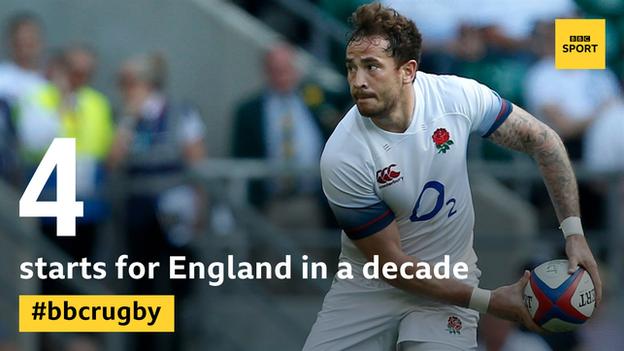 Share if you enjoyed this post!