Last Updated: 11/06/18 7:08am
Dele Alli has promised to not fall foul of new FIFA regulations at the World Cup which allow referees to punish players retrospectively for infringements during a match.
The new rules, backed by Video Assistant Referee (VAR) technology, could lead to players being punished at the interval for foul play that went unnoticed during the first half.
Alli, who has come under scrutiny for previous incidents at Tottenham, remains confident he will avoid letting his temper get the better of him in Russia.
Play the Road to Moscow
Predict your way through the group stages and pick a World Cup winner for a chance to win £5k
"When you're playing the games, you are focused on trying to help the team as much as you can," he said.
"You don't want to put yourself in a position where you could jeopardise everything and lose the game for your team and your country. I'll just be myself, the way I always am."
Alli served a one-match ban for making an obscene middle-finger gesture during England's qualifier against Slovakia last year.
But the midfielder, who despite his reputation has only ever been sent off once in three seasons for Spurs (a Europa League tie), insists he has learned from his mistakes.
"I want to play with passion and I want to play with hunger in every game I play," Alli added.
"I've made mistakes in the earlier part of my career, but you have to make mistakes in order to learn from them. If you look at my record, I've definitely learned from my mistakes."
England fly to Russia on Tuesday and kick off their World Cup campaign against Tunisia on June 18. Panama and Belgium are the other teams in Group G.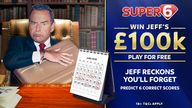 World Cup Super 6
Could you be the next Super 6 winner? Enter your predictions for free here.
Share if you enjoyed this post!