Coverage underway on Sky Sports Mix, Main Event and Action on Saturday and Sunday from 7pm
By Paul Prenderville
Last Updated: 13/07/18 6:30pm
The Sky Sports experts have assembled to give us the lowdown on the athletes, events and head to heads you cannot miss at this weekend's Athletics World Cup.
Two days of competition at the London Stadium will see athletics crown its own World Cup winners as eight nations compete for the Platinum Trophy.
Team points are up for grabs in individual races with eight going to the winner, seven for second place and so on – and the end of the weekend one of GB and Northern Ireland, USA, Jamaica, China, South Africa, Poland, Germany and France will walk away as winners.
But what events will be crucial to the overall team totals – our team on duty for Sky Sports in London this weekend have marked your card on what to watch.
Athletics World Cup on Sky Sports
| | | |
| --- | --- | --- |
| Saturday | Sky Sports Main Event | |
| | Sky Sports Mix | all from 7pm |
| | Sky Sports Action | |
| | | |
| Sunday | Sky Sports Main Event | from 7pm |
| | Sky Sports Mix | from 7pm |
| | Sky Sports Main Event | from 8pm |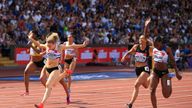 Athletics World Cup: Stars to watch
Emma Paton picks out some of the rising stars on display at the London Stadium this weekend
Toni Minichiello, Women's High Jump (Sunday) and Men's Discus (Saturday)
Firstly, most of my picks have ending up coming up short, but here goes. Essentially it's a head to head between Vashti Cunningham and Morgan Lake, who are the best two athletes in the field.
They have competed against each other a lot, at the Worlds indoors and out, and they are both young – 20 and 21 – it's a rivalry that will continue and they are both very confident.
High jumping is difficult and while Morgan is ranked equal third and Vashti 16th, there is nothing between 1.97 and 1.95 and neither of them will want to lose, a really exciting competition.
Morgan has jumped really well this year, jumping is about consistency and she has had a tendency in the past to make a mistake at the lower heights but she's jumping well and with the European Championships coming up this is the perfect test.
Another head to head comes in the men's discus with Fredrik Dacres, who has got more and more consistent. He throws and wins – he is world no 1 and he will now want to get beyond 70m.
Jamaica do not usually perform in the field events but we are seeing the Bolt effect, people coming to athletics and finding something that suits them.
Dacres will be the favourite but left-handed Reggie Jager will be worth watching. I think he is the best left-handed discuss thrower of all time and as a leftie that is always interesting to watch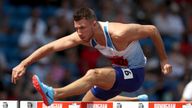 Follow us @AthleticsOnSky
We'll take you behind the scenes through the day with coverage from the stands and trackside
Katharine Merry, Mens 110m Hurdles (Saturday) and Men's Pole Vault (Sunday)
One of the biggest names in the GB team is Andrew Pozzi. He was World Indoor champion in March over 60m and his Commonwealths was disappointing after that so he has a point to prove.
Outside of winning the British title, which he did and at his standard he should be doing, he has not done much in 2018 so is looking for a big outdoor run before the European Championships.
He is up against a decent field, America's Devon Allen, who chose track and field over football in college, France's Pascal Martinot-Lagarde and Jamaica's Ronald Levy mean he is not even the fastest in the field.
It's one of the toughest and most competitive races over the whole weekend.
I'm also looking forward to the men's pole vault as Sam Kendricks won the World Championship in the London Stadium last year and has jumped 5.96m which no one else has bettered but Axel Chapelle is definitely one to watch.
Germany's Raphael Holzdeppe is Olympic bronze from London in this stadium so he cannot be discounted but Kendricks is world class and has has a wonderful 12 months.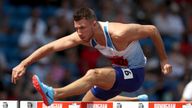 Sky Live: Athletics World Cup
All you need to know about this weekend's event at the London Stadium
James Ellington, Men's 100m (Sunday) and Women's 100m (Saturday)
I have to pick the sprint events as think in the men's 100m it will between France's Jimmy Vicaut and China's Xu ZhouZheng but I give Britain's Ojie Edoburun a chance as he has shown massive potential this year.
Obviously Vicault, a European record holder who has ran 9.86, always has to be in the mix against the best in the world and it will be a chance for ZhouZheng, who ran a great race a couple of weeks ago.
Kendall Williams and Tyquendo Tracey are not the usual household names from the US and Jamaica, they have posted quick times but it is pretty inconsistent from them as it's usually in home conditions – when they come to Europe we get a better sense of what type of sprinter they are
In the women's sprint events, it's a great opportunity for Daryll Neita in the 100m with our No 1 Dina Asher-Smith not running and she goes in against a world and Olympic champion in Elaine Thompson, who hasn't been out her best for the last 18 months or so.
With a few athletes perhaps rested ahead of the European Championships, it's a field where no one stands out and they have all been a little bit inconsistent so that makes it interesting.
Goldie Sayers, Women's Javelin (Saturday) and Women's 200m (Sunday)
I have to be biased and say the women's javelin – but that is because it is a pretty good field.
The Chinese athlete Lu Huihui will be the favourite and she is probably the strongest in the field but South Africa's Sunette Viljoen is the sort of athlete who is getting better with age, you never quite know what you are going to get and that makes her exciting to watch.
Kara Winger, what a name for a javelin thrower, is the US record holder and loves competiting in that stadium
I'm also routing for Beth Dobbin in the 200m because it's such a remarkable story – she's 24 and this is going to be her debut in the British team, in the Olympic Stadium it shows everyone develops at different rates.
Jeanette Kwakye, Women's Long Jump (Saturday) and Women's 400m (Saturday)
Our own Lorraine Ugan is a world leader and her jump of 7.05m now puts her in a different territory – we've had strong women's long jumpers in the past with Shara Proctor, Jazmin Sawyers and Lorraine.
Lorraine has not always been the most consistent but after her jump a couple of weeks ago it will be interesting to see how she deals with being in a British vest at Olympic Park as the main contender.
It's a fair field, so Lorraine has a chance if she can keep her head as she has been known to record three no jumps, but she now has the confidence to go out there and make her mark.
Also, the women's 400m should be a tasty race – Stephenie Ann McPherson is the one that everyone will be after, she can be unbelievable on her day.
America's Courtney Okolo is the world indoor champion – she's got tonnes of gold medals from relays but individually its now time for her to take her indoor form to the outside. British champion Anyika Onuora was really confident speaking to me in Birmingham a couple of weeks ago so she is up for the challenge.
Coverage of the Athletics World Cup is available on July 14/15 beginning at 7pm on Saturday – you can watch on Sky Sports Action and Main Event while it will also be available to all Sky customers on Sky Sports Mix, channel 121
Sunday's climax will be available on the same channels, with Mix and Action covering the event from 7pm and Main Event viewers joining from 8pm
Share if you enjoyed this post!