We'll talk about Byron McGuigan's tries, but first we'll talk about Byron McGuigan's tattoos, the ones he has done and the ones he has yet to do, like the number he wears on his back for Scotland and the thistle he wears on his chest. "They're next," says the wing who has touched down three times in four Tests and starts again this weekend against the United States.
"I'm not sure when I'll do them or where I'll put them, but my wife is a graphic designer, so she's going to work on something for me. Something really nice. You can tell that I like my tattoos. They're pretty personal to me."
They actually tell the story of his life. He points to the face on his left arm – "my father, Richard" – and the map below – "South Africa, where dad was born, and that dot there is Cape Town where I was reared." He switches over to his right arm which bears the name Carol. "That's my mum. From Glasgow. Her parents moved to Namibia when she was six years old. Her dad was into construction. She's as proud a Scot as you're going to get. That whole side of the family are Scottish."
Captain Hogg 'rediscovered love of rugby'
Hogg leads much-changed Scots against US
Wilson to replace McFarland as Scots forwards coach
On his shoulder, he has the image of praying hands. "Being brought up in South Africa, I'm quite religious." On his right calf, a load of numbers. There's 28-10-16, his son Malakai's date of birth and then two rows of digits, the co-ordinates of the hospital Malakai was born in. "The hospital wasn't actually very nice, so I just thought I'd get the co-ordinates so nobody would know," he laughs.
'My time at Glasgow was frustrating'
McGuigan's tale is not a conventional one. He was born in Walvis Bay, a port town on the Namibian coast, and was brought up, from six months, in Cape Town. He began playing rugby at the age of 14 and had what he calls an upside down life. While his mates were playing rugby as kids he was out fishing with his father. When his mates started to drift away from rugby, he was getting into it.
By his late teens he was a bit of an obsessive, spending hour upon hour goal-kicking. "It might seem a little boring, but I was loving it. My school wasn't a well-known rugby school but it was a big sport for us." He went away to play with Border Bulldogs in the Eastern Cape and then into the South Africa sevens set-up. His grandmother on his mother's side always said to him that one day he would play for Scotland. As much as he liked the idea of making his mother and grandmother happy, he couldn't see it.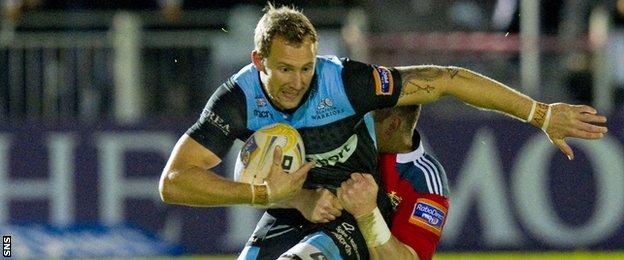 At 24, fate deposited him in Glasgow. Gregor Townsend, then coach, liked what he saw, but McGuigan couldn't make an impression. "I had DTH [Van der Merwe], Sean [Lamont] and Tommy [Seymour] ahead of me and I think Gregor could see my frustration, so he let me go to Bay of Plenty in New Zealand to get some game-time. I enjoyed it there but it wasn't as professional as you might think. It was only about 10 games. I needed more than that, so I went to Exeter for a season and then Sale picked me up."
That was two seasons ago – and it was the best move he ever made. McGuigan started playing and scoring. By the time Townsend called him into the Scotland squad for the November Tests he was an altogether different animal to the one who slipped quietly out of Glasgow four years before.
'Flower of Scotland brings tears to my eyes'
He made his debut off the bench against New Zealand and then scored two tries from the start in the annihilation of Australia. McGuigan put himself in the picture for the World Cup right there and didn't do himself any harm against Canada last weekend when scoring his third try in four appearances.
"Believe it or not, even though I was living in South Africa, my dream was always to play for Scotland. My roots are so strong. When I sing the anthem it brings tears to my eyes. I actually close my eyes so the cameras don't see me. I get emotional. I see myself as a very proud Scot, which might seem weird because I come from South Africa. I love saying that I'm Scottish even though I don't sound like it."
There's no doubting his passion and his love of being a part of this squad. At 28, he says he doesn't know how long he's got left at the top level of the game, but he's intending on making the most of every minute. That's his philosophy – and it's working.
"You've got to take your chance, that's what life is about. In the last few years my mindset has changed. I always put pressure on myself. I always felt that somebody was breathing down my neck, but now I'm like, 'Right, if this is my last game then I'm going to enjoy it'. I take in the crowd, I take in the moment and I usually write '40' on my wrist. That means give it your best for 40 minutes and if they make a change at that point then at least you know that you've given it your all. If you cramp up, that's fine. Just give it everything.
"I remember taking in the Murrayfield crowd on the day of the Australia game in November and it was such a buzz. It gave me an extra bit of energy and it'll live with me forever. My son was there and it's going to be cool to show him that when he's older."
'Cardiff was a reality check'
Baby Malakai – Kai for short – will be spared the tape of the Wales game, his father's third cap and one that reminded him, not that he needed reminding, of rugby's capacity to bring you back down to earth in the most brutal way.
"Getting a chance to play in the Six Nations was enormous for me, but that was a reality check. I tore my hamstring and was out for six weeks. Knowing that I couldn't make amends for what happened in Cardiff was hard. That was a tough spell."
Edmonton was his first time in the jersey since that wretched day and he scored after eight minutes. His mantra is "play every game like it's your last ever game" and it's giving him a peace of mind and a power that's put him back in the team this weekend.
Share if you enjoyed this post!