Last Updated: 27/05/18 11:16pm
Tom Cairney says he cannot wait to lead Fulham into the Premier League following a play-off final win and the captain believes the club will keep the team together.
Cairney, 27, had attracted interest from West Ham in January, while the likes of 18-year-old Ryan Sessegnon and attacking full-back Ryan Fredericks have also been linked with moves away from Craven Cottage.
The Fulham skipper believes promotion to the top flight, via a 1-0 win over Aston Villa in the play-off final, strengthens the Whites' position in the transfer market and hopes of retaining some loan players, too.
"I signed a contract extension last summer – I believed in what we're doing here," said Cairney.
"I believed in the way we play, and the manager has put a lot of faith in me. I've tried to repay him the best I can, and I think I did that today.
"I think people were coming to the end of their contracts and stuff.
"But I think this team being in the Premier League, based in London, I think it's an attractive club and I think it keeps the team together.
"I think that's why I said we needed to win today."
Cairney, unsurprisingly, called Saturday's win the highlight of a career he expects to continue for some time yet.
"I am 27 years old," he continued. "I want to play football.
"Yeah, the next few years are probably going to be my prime and whatever.
"To be honest, I feel like I will get better as I get older. I am not exactly going to lose pace – do you know what I mean?
"I am getting more and more experiences the more I play. I understand my position.
"I have got a lot of responsibly in this team and I try and make us play."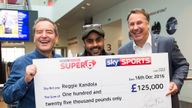 World Cup Super 6
Could you be the next Super 6 winner? Enter your predictions for free here.
Share if you enjoyed this post!