Former international Doddie Weir hopes Scotland is on the cusp of a "golden age" under Gregor Townsend.
The Scots have beaten Australia twice, France and England since Townsend replaced Vern Cotter as head coach a year ago.
And Weir, who won 61 caps between 1990-2000, thinks the good times will continue for the national team.
"Vern did a great job but Gregor has taken it up a peg or two," Weir, 47, told BBC Scotland.
Scotland lure prompts U-turn for 'innovative' Wilson
Scotland call-up Shiel to replace injured Price
Father's sacking 'awkward for Russell'
"It's lovely to see and the players want to play for him. They want to play exciting running rugby, which we all want to see. With that, and the player base and the skill level, that is allowing him to do that."
Scotland are currently preparing for Saturday's match against the USA in Houston after opening their summer tour campaign with a 48-10 win over Canada in Edmonton.
With the World Cup in Japan just over a year away, Weir says the current crop of players could achieve something special, but says they will have to work hard to maintain the level they have set.
"I don't know where the recipe is coming from but let's hope it is a golden age," said the former British and Irish Lion.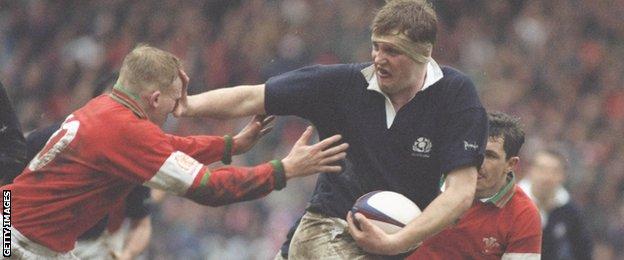 "The team have been working hard to get here and it's an exciting time. Sometimes getting to the top is easier because of the incentive but the hardest thing is to stay there.
"Let's hope there are building blocks to keep the boys where they are at the moment. It can't last forever unless you start rebounding and rethinking and bring on new players.
"What a year it's been for Scottish rugby and let's hope it continues until next year's World Cup."
'I've still got a smile'
Just over 18 months ago, Weir was diagnosed with motor neurone disease and set up a foundation to raise awareness and funding to help research.
"I'm not too bad," he said. "Other people maybe don't have the luxury to be here 18 months after being diagnosed. I'm still here, driving, speaking, talking, dressed like a muppet at times, but with that I've still got a smile.
"I think maybe the reason behind that is the support that I've found. That's given me a kick to keep going. My respite here is to try and help find a cure or a stoppage to this horrific disease that so many people have."
Weir's message has also reached the world of golf, with his foundation being named one of the benefiting charities of this year's Scottish Open Golf at Gullane.
"To have the support is somewhat overwhelming," he said. "From all walks of life. From big businesses to individuals to the European Tour, who have put us forward as their nominated charity. It's quite incredible."
Earlier this week a donation of £400,000 was made by his foundation to help with research.
"When I got told I had MND it was December 2016," he said. "There was only one drug available. I had to go and find that drug and it has not been advanced in 22 years. Otherwise there is nothing out there that can help.
"I go to the gym because it is a muscle wasting disease. There are no bio markers to suggest that helps. I see a chiropractor once or twice a week. It's not endorsed by any medical practice to say it helps.
"Soya milk, for example, does it help? Do you eat more meat or more fish? It's quite primitive.
"These things have maybe not been researched to say 'yes it does', or not. We have got to find our own path. Luckily for me it does work but positive thinking has a big stand."
Share if you enjoyed this post!