England's defeat by South Africa was marred by a post-match confrontation between players Mike Brown and Joe Marler and fans.
The Harlequins duo exchanged angry words with supporters after England lost their fifth straight Test, beaten 23-12 by South Africa in Bloemfontein.
England head coach Eddie Jones said he did not see the incident.
But asked if his players won or lost with dignity, he told BBC Radio 5 live: "I think they always do."
England led 12-0 but the defeat means South Africa have wrapped up the series 2-0 with one match to play.
A further sign of England's frustration came when scrum-half Ben Youngs walked away from a television interview after one question.
He subsequently apologised on social media for conduct that was strongly criticised by Sir Clive Woodward in his role as a pundit.
"Just wanted to say sorry I walked off during my interview with Sky Sports," Youngs said on Twitter.
"Obviously was very emotional and disappointed with result. We go again in Cape Town."
England lose fifth match in a row
Listen: Eddie Jones speaks to 5 live following SA loss
Has Jones lost the dressing room?
Former England scrum-half Matt Dawson raised doubts about Jones' future in his post-match analysis on 5 live.
"There were a few rumours I heard last week about what's going to happen going into the World Cup – has Eddie Jones lost the dressing room? Has he lost Twickenham?" he said.
"The wheels are wobbling, big time. There have been far too many, not just losses, but far too many bad performances – they were just woeful today, in the second half England were absolutely awful."
However, former captain Will Carling said the side had plenty of talent but needed to sort out their discipline and get the best out of key talents.
"Need to get the best out of Itoje, Vunipolas again. Fine margins and sweeping statements of apocalyptic catastrophe don't get us anywhere!" he wrote on Twitter.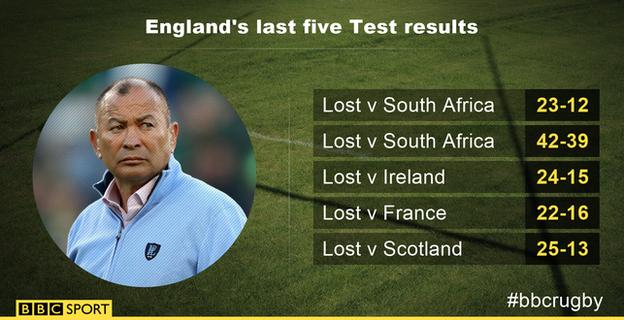 'Defeat like a horror movie'
Jones described England's fifth defeat in a row as "like a horror movie" but said his team was determined to "get our our pride back" in next week's final Test.
"This team has a lot of pride, we've won back-to-back Six Nations, equalled the record for wins," said Jones.
"Now we're going through this tough period. Everyone will fight hard to get out of this."
Asked about an apparent scuffle between the England team and the Boks, Jones said: "Both teams wanted to win the game and England v South Africa are always tough games.
"I don't think that [ill discipline] was the case – there was one scuffle with Faf De Klerk and Billy Vunipola… but I didn't see anything else," he said. "I thought it was a good hard Test match."
England led 12-0 after 13 minutes but failed to score again as South Africa dominated the rest of the match to clinch the series.
"I'm obviously very disappointed. It was a like a re-run of last week," added Jones, recalling the first Test in Johannesburg which England lost 42-39 despite scoring three early tries.
"We were trying to work out a solution and pick out a plan but as soon as something small happens we don't seem to react well.
"No-one wants to lose five Tests. For some reason we're just not handling the key moments of the game."
Jones said he did not understand why England were struggling to maintain their initial momentum.
"If you don't control the ebb and flow, the game gets away from you. It's a great learning experience for the team, extremely painful."
On England's relatively high number of penalties, he said he was unsure why so many had been awarded.
"I think the players are trying too hard, they're trying to solve problems themselves and not trusting their team," he said.
Insight and chat – subscribe to the Rugby Union Weekly podcast
Share if you enjoyed this post!