Last Updated: 01/07/18 11:52pm
Gareth Southgate believes England are playing an attractive style of football that their supporters can be proud of.
England face Colombia in the last 16 of the World Cup on Tuesday and Southgate feels there is a reconnection with fans after his side came in for criticism during their qualifying campaign.
"Ten months ago we qualified [for the World Cup] and people were throwing paper aeroplanes onto the pitch at Wembley," said Southgate.
"We were driving back to our hotel in Malta with some obscene chants being thrown at us from supporters.
"I feel like we've started to connect the team with the public again. I feel like we've created excitement, like we've played in a style that has really shown an expression of what young English players are capable of."
Southgate says Tuesday's game is a big test for his "inexperienced" squad but he is backing them to continue their upward curve as they bid to reach the World Cup quarter-finals for the first time since 2006.
"They've been able to change perceptions of how an England team might play," he said. "We mustn't lose sight of that.
"I really believe in the group of players we've got. They are young. They are inexperienced. For some of them, this will be one of the biggest games [against Colombia] they'll have been involved in.
"But maybe not the biggest. We've always got to keep that context for the players."
Southgate rested a host of players for the defeat to Belgium but stuck with Jordan Pickford in goal, and he leapt to the Everton stopper's defence after he was criticised for not saving Adnan Januzaj's winner and Thibaut Courtois said he was smaller than the majority of goalkeepers at the World Cup.
"I remember when we were talking about young goalkeepers at a conference and Martin Thomas, who is a brilliant coach educator and was U21s goalkeeping coach, was talking about the difference between a couple of goalkeepers.
"Size-wise, he was saying, 'at the end of the day, we're talking about a Cadbury's Creme Egg between them'. That's what it is.
"So, yes, of course some keepers are 6ft 6in, but they have attributes that they're not so good at. And you get slightly smaller ones who are athletically better and have different skill sets. So, it's rare to find perfection in anybody.
"I'm really pleased with Jordan's performances. He knows the belief I have in him. He is an important fit for the way we want to play.
"I don't think he's had much chance with the goals that have gone in. That can be a goalkeeper's lot at times.
"But he has to make sure he knows the views of those who are important and, like everyone else, cut himself away from the outside views that can start to inhibit your thinking."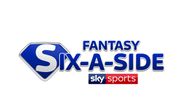 Fantasy Six-a-Side
Pick your dream team for England v Colombia to win the guaranteed £1k jackpot.
Share if you enjoyed this post!