Adam Bate
Comment and Analysis @ghostgoal
Gareth Southgate's side through to the quarter-finals after shootout win over Colombia
Last Updated: 03/07/18 11:39pm
England progressed to the quarter-finals of the World Cup after a penalty shootout victory over Colombia in Moscow. Gareth Southgate's side have shaken off the burden of history – who knows where this might end now?
"The lads have the chance to write their own stories now," Southgate had said on the eve of the game. Even he could not have known how much this young team would turn history on its head in Moscow. His players not only won the country's first knockout game in 12 years but did so thanks to England's first ever penalty shootout victory at the World Cup.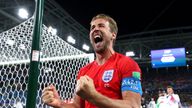 England beat Colombia on penalties
England beat Colombia 4-3 on penalties after an ill-tempered 1-1 draw in Moscow to set up a World Cup quarter-final with Sweden.
The mood had been fatalistic and understandably so. England had not only lost their last five shootouts but they had already won this game once, Harry Kane's second-half penalty seemingly having sent them through to the quarter-finals only for Yerry Mina's stoppage-time equaliser to change all that. It was a huge test of their mental resolve.
"I have never really been in that situation before," said Eric Dier afterwards when asked about the fifth and final spot-kick that finished the tie. That seemed to sum it up. There was optimism surrounding this England side but it was difficult to know what to expect. They had not been taken to the depths against dangerous opponents when it really mattered.
Everybody knew there was talent in this team. What nobody could know for sure after a comfortable qualifying campaign and the wins over Tunisia and Panama is how they would react when that really difficult moment came. How would they fare when confronted with the pressure, the fear of failure and the feeling that things weren't going their way?
In a tense and tight contest against Colombia, they delivered the answer. England kept their composure and overcame the sort of setbacks that would sap anyone's confidence. They now progress to the quarter-final tie against Sweden with their belief enhanced. These young players, learning as they go, could be ready to do something really special in Russia.
There were so many tests. Some of them were mental – a sense of injustice after Wilmar Barrios escaped with only a yellow card for a headbutt on Jordan Henderson five minutes before half-time; a shoulder into Raheem Sterling from Colombia coach Julio Urtasun as he walked down the tunnel added to the needle and tensions only rose further as it wore on.
Other issues were tactical. England were the better side in the first 25 minutes. Colombia could not get Radamel Falcao into it and Kieran Trippier's forays down the right were troubling them. The back three had the courage to play and the midfielders were making good runs. But as the pace slowed, there were concerns whether they could keep it up.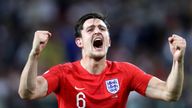 England's golden chance
Forget the golden generation, England's new generation have a golden opportunity at this World Cup, writes Peter Smith.
"It has gone from being a running game to being more of a positional game," explained Sky Sports pundit Gary Neville at half-time in his studio role with ITV. "Then you are asking yourself, have you got the quality? And that's the one concern I have had in this past 15 or 20 minutes, not having that final pass or that little bit of cuteness in the final third."
Though that clever pass in the final third never did come, England were cute enough in plenty of other ways. Kane did brilliantly to win the penalty from which he put his team ahead, outfoxing Carlos Sanchez and then inducing the foul. Colombia's antics appeared to design to unsettle but for the most part it was England who kept their composure.
There was some hairy moments. Henderson motioned towards his marker with his head as Colombia attempted to stall the taking of the penalty and earned a booking. John Stones caught Radamel Falcao when attempting to free his foot following a challenge and risked censure of his own. It became that sort of game.
But England showed signs of savvy too. "Maybe we are getting a bit smarter," said Southgate afterwards. As the game heated up in the second half, Kane bought foul after foul. Ashley Young called on the physio to help take the sting out of it. Dele Alli wandered to the far side of the field before being withdrawn. They had done so much right that Mina's last-gasp goal felt particularly cruel.
It was the sort of sucker-punch that cripples belief. "We were about to say that they were professional and they had showed great composure and maturity and then that happens," said Neville at the end of normal time. "They now need to really go out there and show us what they are made of. This is a real test."
For the first half of extra time, passing it looked difficult in more ways than one. England were hanging on like a boxer who had been on the receiving end of a knockdown and was now desperately hoping to regroup until he could recover his senses. But they came through it to have the best chance of the extra period – Dier heading over unchallenged.
Kane: We have grown with win
Harry Kane says England grew up as a team during their penalty shootout victory over Colombia in the World Cup last 16 on Tuesday.
What followed in the shootout really did feel like a sliding doors moment for these players. Nobody could say that the work had not been done. "We have been practising and going through strategies on them since March," Southgate had explained. "We have done various different studies and had individual practice." Doing it in a game is a bit different.
Kane scored, of course, slamming the ball home from the spot for the fourth time already at this World Cup, but so did 20-year-old substitute Marcus Rashford – his confidence in stepping up to take the second kick epitomising the fearlessness of these players. Trippier, who produced another fine performance for his country at wing-back, converted as well.
Jordan Pickford, who had been criticised after the Belgium game, was the hero. It was his strong hand that kept out Carlos Bacca's penalty for Colombia. Southgate had insisted that his goalkeeper focus on the esteem in which he is held by those who matter rather than his doubters on the outside. There are not so many doubters now. Only believers.
All over the pitch, there were players who will emerge stronger from this experience. Colombia seemed to have noted Harry Maguire's lapses of concentration on the ball in the first two matches and pressed him in possession, but his distribution held up. This was Maguire's best game yet. Jesse Lingard impressed again. Stones too. A team has emerged.
So where will this end? How can anyone say when England are in uncharted territory at a World Cup – penalty shootout winners looking forward to their next challenge. England are not coming home yet but perhaps football just might be. Not that Southgate, even on this night of nights, would want to evoke the memories of Euro '96 and all that.
"This team should not be burdened by previous teams who had far more experience and far more decorated players," he had stressed beforehand. "We have to separate history from what this team are trying to do, their own journey, and they are going to be more exciting." After an absorbing night in Moscow, a new and very different story is emerging.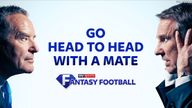 Fantasy Head to Head
Challenge a mate in our brand new Fantasy Football head-to-head mode. Play for free!
Share if you enjoyed this post!