By Liam Grace
Last Updated: 29/05/18 6:58am
Martin O'Neill says his Ireland players can learn lessons from the defeat to France as goals from Olivier Giroud and Nabil Fekir secured a 2-0 win in Paris.
Chelsea striker Giroud opened the scoring on 40 minutes, scrambling the ball over the line after his goal-bound header was blocked, before Liverpool transfer target Fekir hit a curled effort which beat Colin Doyle.
The Republic boss was happy to see some of his fledgling internationals get a taste of what is required, including Shamrock Rovers striker Graham Burke, who won his first cap as a second-half substitute.
O'Neill said: "I am really pleased that we have taken this fixture on because if you're trying to aspire to something, that sort of quality that the French possess is something you would want.
"While we are a great distance off that, I think the players can learn. We can look at the performance again at our leisure in the next 24, 48 hours, pick out the points we think we can definitely improve on.
"The one thing that we can is obviously, although we defended very strongly – we conceded maybe two bad goals at the time, but we defended pretty strongly – is our use of the ball when we have it.
"But it's a great lesson for us tonight in what we're trying to achieve. France are very strong, individually they have got a lot of talent in their team. I think they are one of the favourites for the World Cup."
France boss Didier Deschamps was delighted with what he saw, with their World Cup opener against Australia in Kazan less than three weeks away.
Asked if he had seen all he wanted to, he replied: "Well, all is maybe a lot to say, but we had good control in the game. We made them run a lot, we scored at the end of the first half and we had a fair amount of movement within the team, so that's all good."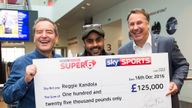 World Cup Super 6
Could you be the next Super 6 winner? Enter your predictions for free here.
Share if you enjoyed this post!