Hamiton happy but wary of car issues – and do Ferrari have the quicker race car? Watch Saturday's qualifying on Sky F1 at 2pm
By Matt Morlidge in Spielberg
Last Updated: 29/06/18 7:22pm
Lewis Hamilton says he felt an immediate difference in his upgraded Mercedes at the Austrian GP but admitted he still had issues in a car he dominated both of Friday's practice sessions in.
Mercedes brought a raft of aerodynamic updates to Spielberg – their new-look W09 was described as a "B-spec car" by Sky F1's Martin Brundle – and Hamilton made the most of the boost by leading consecutive team one-twos in Practice One and Practice Two at the Red Bull Ring.
"The car feels better in certain areas around the track and it was already great last week," said championship leader Hamilton, a comfortable winner in France.
"And I'd like more please! There are others who are just constantly adding but we wait to put in one big block.
Mercedes unleash big car upgrade
Austrian GP schedule: Qualy at 2pm
"I'm just going to keep pushing to maximise and get more out of it. The car does feel good this weekend so I'm excited for the fight."
Valtteri Bottas, second to Hamilton in both sessions, added: "The initial feeling is that the upgrades really worked well so the team has done a really good job with that. I think there's still some more lap time to be found."
But Hamilton warned that he still struggled towards the end of the day's running, with Ferrari looking to have the better of Mercedes during the race-pace runs in Practice Two.
"P1 the car felt immediately better and the start of P2 it felt better again," Hamilton explained. "But it kind of got worse through the session.
"We've got to figure out why and I'm sure we can rectify it."
Hamilton topped the second session on the soft tyres, the hardest compounds available this weekend, but labelled them the "biggest issue" in Austria as he couldn't "understand them".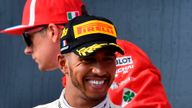 Find out more about Sky Sports F1
Watch every race, qualifying and practice session live with Sky Sports F1 in 2018
"We've had nine races and they're different everywhere we go," he continued. "One session they'll work and the next session they don't and you don't understand why. It's confusing."
Mercedes' closest challengers this weekend again look to be Ferrari, who appear to once again be keeping their one-lap pace under wraps on a Friday.
Sebastian Vettel finished fourth in Practice One before finishing third, and two tenths off Hamilton later in the day – and the German believes Ferrari still have the package to challenge the world champions.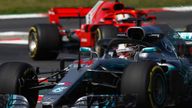 Get Sky Sports F1
Watch every 2018 practice session, qualifying and race – only on Sky Sports F1.
"The car has been quite good today and usually we have a good step from Friday to Saturday," Vettel said. "We will see."
Team-mate Kimi Raikkonen added: "It will be close between many cars. That's what usually happens here because it is a short lap."
But Red Bull didn't have as enjoyable today at their home race, with both Max Verstappen and Daniel Ricciardo unable to pinpoint their ideal setup for the weekend.
Verstappen challenged the Mercedes in P1 but fell back in the afternoon, and claimed: "It was average. It was not the balance we wanted, we were chasing the balance.
"We haven't really found the sweet spot yet so there's work to do tonight."
And Ricciardo added: "I think we can find a happy medium between the two setups we tried."
Can Sebastian Vettel recover at the Austrian GP or will Lewis Hamilton extend his championship advantage? Watch every session live on Sky Sports F1 this weekend. Get Sky Sports F1.
Share if you enjoyed this post!