Last Updated: 21/07/18 11:28pm
Joe Hart is keen to secure a permanent move away from Manchester City this summer and avoid going on loan for a third consecutive season.
Hart is back at City after loan spells at Torino and West Ham and finds himself third choice behind Ederson and Claudio Bravo.
City boss Pep Guardiola has said he wants to "find a solution" for Hart and the 31-year-old goalkeeper is keen to begin a new chapter in his career.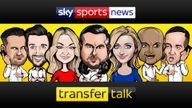 Transfer Talk: Alisson to hand Klopp PL?
The Transfer Talk panel discuss whether Liverpool's signing of Brazil No 1 Alisson will turn them into title contenders.
"I need to go somewhere permanent, I think that's obvious," said Hart, who missed out on selection for England's World Cup squad.
"I did what I did in the previous two seasons because I needed to play to be involved in the World Cup – and look where that got me.
"I'm experienced, I've played at the highest level for a long time and done a lot of things in the game.
"I need to be an important player at that club and I think that can only happen with a permanent move.
"Of course, if I don't find a solution which suits both parties, I'm contracted to Manchester City.
"I need to do what's right for me and my family and that's the decision I'll be making. It's a tough one, but it's a situation which will be resolved."
Hart has been included in City's squad for the preseason tour of the US and appeared to huge cheers as a second-half substitute in Friday night's 1-0 defeat to Borussia Dortmund.
Despite his differences with Guardiola, Hart was always confident he would be welcomed back to City, who he joined from Shrewsbury in 2006.
When asked if he feared he might be frozen out, Hart said: "It was never going to happen, they would never have treated me like that.
"That's not the relationship that we've got. I was never worried about that.
"As long as I've not signed for someone else then I'm here and work hard for this team. We'll see what happens."
There are less than three weeks to go until the English transfer window shuts on August 9, although players can move abroad until August 31.
Hart, who is going into the final year of his contract, knows if a move does not materialise quickly, he faces the prospect of a season in the wilderness but he is remaining philosophical.
"It's life, isn't it? We've all got our own lives that go on," he said. "Football is just a game. You deal with the ups and downs.
"It's difficult when you're on loan, especially when you're not a young player who people may have sympathy for.
"I'm older and being who I am and what I am, I'm there to be shot at, especially if I go on loan to a club that doesn't necessarily have a good season.
"I knew that when I went. I'm young. I feel fresh, I feel strong, I'm ready to go. And I'm ready to give a whole lot more to football. I want to play.
"At the moment I'm here and happy with how they've treated me. It's obvious what's going on."
Share if you enjoyed this post!