Ireland hooker Rob Herring says belief was a key factor in Ireland achieving a 2-1 Test series victory over Australia.
Ireland recovered from 1-0 down to take wins in Melbourne and Sydney and record a first three-Test series triumph in the southern hemisphere.
"There's a lot of belief in the squad and we've shown throughout the last year that we can come back and hold out in those big moments," said Herring.
"That's the kind of belief you need to keep building going into a World Cup."
"We're quite a tight group and from these three and a half weeks we've been on tour, that sense of being tight-knit has grown considerably," added the Ulster hooker.
Following on from their Grand Slam triumph, their first series win over one of the southern hemisphere's traditional big three since 1979 made it the most successful season in Ireland's history.
Ireland survived some nervous moments in Saturday's decisive game at the Allianz Stadium, but Herring believes the confidence they've built through their successful season stood them in good stead as they ran out 20-16 winners.
'Massive 18 months coming up' – Herring
With captain Rory Best out of the tour with injury, his Ulster team-mate Herring was one of the relatively unheralded players who received an opportunity on this tour, starting the first Test and coming off the bench in games two and three.
Despite fielding three very different teams for each of the games in a compelling series, Ireland managed to clinch the Lansdowne Trophy.
With the 2019 World Cup in Japan looming large over next season, Herring is excited about what the team can achieve.
"The last year has been massive for us," he said. "We know that as a squad we still have more to give. We have tough autumn internationals coming up and then the Six Nations, leading into a World Cup.
"Being out there on the pitch after the game, the support we've had throughout this tour has been phenomenal – it's just those memories that will live forever.
"Hopefully, there is more to come and it's a massive 18 months coming up for us. We'll keep building to the World Cup."
Pocock praises Irish 'game management'
Although bitterly disappointed to lose out on the series, Wallabies number eight David Pocock praised the Irish effort.
"The finishers came on and lifted the energy. It was a huge amount of effort and it is incredibly disappointing. Credit to Ireland through the series, they have been tough.
"Their game-management has been really good, you don't become number two in the world for nothing, it finishes a really good year for them.
"Each game has been tough. They're a good opposition, it's been a real arm wrestle and it's not how we wanted it to finish. Certainly in that last 20 we were backing ourselves to finish strong, finish well and didn't quite get there."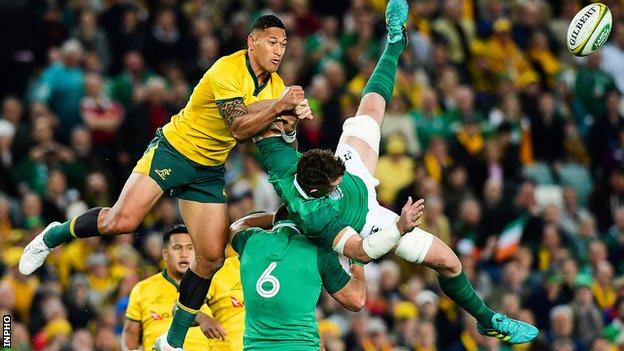 Folau cited for dangerous play
Meanwhile Wallabies full-back Israel Folau faces more fall-out from the Test series loss to Ireland after he was cited by World Rugby on Sunday for dangerous play.
Folau will face a disciplinary hearing this week after being cited for a ninth-minute incident in Ireland's win, one of three times Folau competed against Peter O'Mahony in the air at a kick-off.
The incident was not detected by the on-field match officials and was not reviewed by the Television Match Official (TMO).
Folau was sin-binned for the third instance after the Irish skipper landed heavily in the 31st minute and was ruled out for the remainder of the match with concussion.
Citing commissioner Michael O'Leary reviewed footage of the match and decided that while Folau's sin bin incident did not warrant further action, the second kick-off incident that was not picked up by the match referees was worthy of a hearing.
O'Leary's report said the incident was "strikingly similar" to the one for which Folau was yellow carded.
Given the yellow card and subsequent citing, Folau must face a hearing with a date to be determined within two days.
Share if you enjoyed this post!