Summer international: Canada v Scotland
Venue: Commonwealth Stadium, Edmonton Date: Sunday, 10 June Kick-off: 02:00 BST
Coverage: Watch on BBC One Scotland & BBC Sport website; text commentary on BBC Sport website
The things you hear when you're injured. "Ooh, isn't that one of the worst things you can do?" "Ooh, the timing couldn't be worse, could it?"
Just a few of the comments I get every day since rupturing my Achilles. I say, "Thanks" and move on. Slowly. Oh so slowly. Back to the relative safety of my couch.
On Friday I got the plaster off my left leg, to be replaced by a giant moon boot and crutches for the next six weeks. It's unclear when I'm going to play again. What is very clear is that it won't be at the start of the season and it won't be the autumn either.
The surgeon says the target is the Six Nations next year, so we'll go with that. If I'm ready, I'm ready. If I'm not, I'm not. Experience tells me that you can't second-guess these things. The longer the rehab, the greater the unpredictability. There's a lot of hard months ahead.
Barclay ruled out for six months
Gilchrist & Hogg backed to step up
McInally injury doubt for summer tour
Part of the purpose of this column is to shine a light on the psychology of being injured (not to garner sympathy, although sympathy would be gratefully received on my Twitter account). Maybe some young players coming through will read it and might take something useful from it.
There's a despondency that hits you that's bleak and that can take you to a pretty dark place if you let it. If you just have rugby in your life, and no outside interests, then one of these injuries can send you into a spiral.
You can spend a lot of time focusing on the things that you're missing out on. You can hang your hopes on a certain comeback date and when you suffer a setback, your mind can struggle to deal with it. Sometimes it's not the physical pain that causes the most damage but the mental.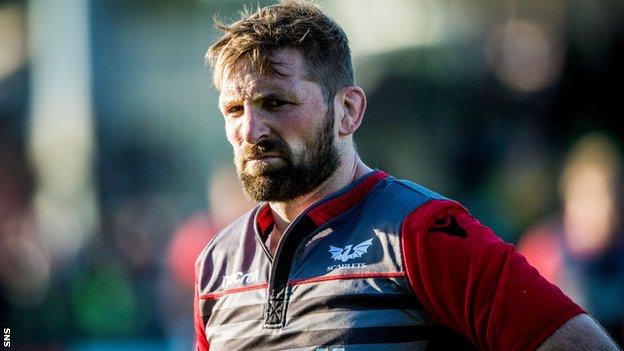 I have a university dissertation to finish by July, ruptured Achilles or no ruptured Achilles. We have a house in Edinburgh to renovate and there are things I think I can do with Edinburgh even though I'm not going to be playing for a while.
It's about finding ways to contribute, whether it's mentoring some young players, helping with analysis or gaining an insight into the coaching world, which is where I hope my career will take me when my playing days are numbered. I can't make the kind of mark that I'd wanted to make, but there are other ways of helping the team and driving the culture.
I go back to the night my time with the Scarlets ended and all of this started. Did I touch the ball in that game against Glasgow? I might have touched it once. I didn't make a tackle and didn't hit a ruck. I think I lasted six minutes of that Pro14 semi-final at Scotstoun.
As I was being helped from the field I had to pull myself together as it suddenly dawned on me that I wouldn't get the chance to play for this great club again. I was dejected and in pain and I was dragging my foot along the ground. My good pal, Ryan Wilson, came over and said to the medics in his own inimitable way, 'Don't worry, Doc, he walks like that all the time'. There's a picture of the Doc laughing. There's no better man for gallows humour than Wilson.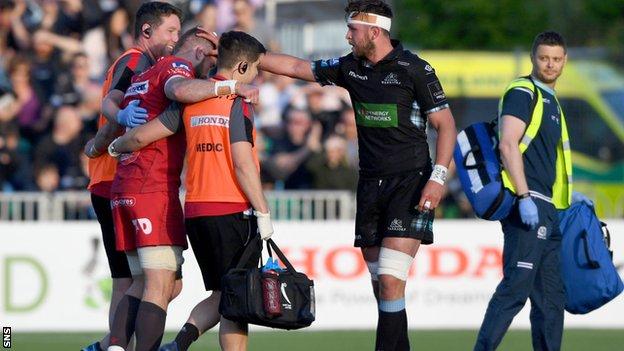 I got an hour's sleep that night. Nodded off at 6am and woke at 7 for the flight back to Wales. Gareth Davies pushed me around Glasgow airport in a wheelchair and we got lost trying to find the disabled lift. At the other end, I stayed with Gareth who bathed and showered me daily – his insistence, not mine. I spent Saturday whizzing around Pontcanna in a borrowed mobility scooter. Crashed into a beer garden at one point. But that's another story.
You think 'Am I coming back from this?'
You have to look at the humorous side of this stuff. It can be hard, but what's the alternative? The injury happened on the Friday night and I got surgery on the Monday morning at a clinic in Marylebone in London.
My father-in-law collected me afterwards and drove me the seven hours back to Edinburgh. I've spoken in previous columns about how quickly sport moves on and never have I felt this more than on the seven-hour drive north.
All the while you're thinking, 'Am I coming back from this?' What helped was the messages of support. Loads of people from the Scarlets and loads from the SRU. Some of the big hitters at Murrayfield taking the time to tell me that everything will be taken care of.
[Edinburgh head coach] Richard Cockerill was on sympathising with me about missing out on the Pro14 final. Naturally, he was disappointed that I won't be featuring much at the start of next season but he was talking instead about ways of getting me involved behind the scenes while I'm rehabbing.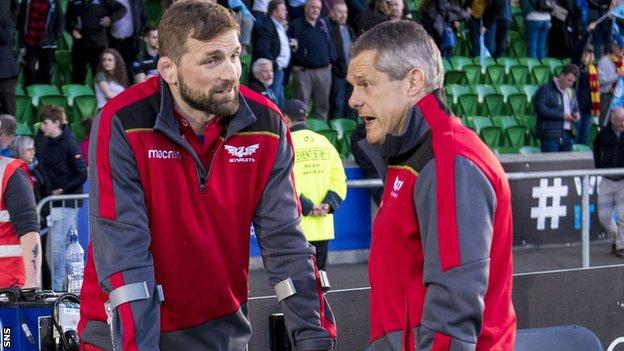 [Scotland coaches] Gregor Townsend, Dan McFarland and Matt Taylor all got in touch. Matt knows that when I finish playing I'd like to become a defence coach, so he said, 'Let's meet up, we can talk about defence, you can shadow me and see how we do it'. Al Kellock, who's moved on to the business side of things at Glasgow, was on as well. That stuff meant a huge amount. It helped keep the spirits up.
You live in your own micro-world when you're rehabbing – a goldfish bowl within the normal goldfish bowl and it extends beyond the rugby pitch. The kids want to play, but I can't play. Logan, my middle son, asks me to pick him up but I can't pick him up. I have to elevate my foot for 50 minutes in every waking hour.
Ten minutes of freedom in an hour. I mean, for me on crutches, it's 10 minutes to the toilet and back. I decided I wouldn't drink water so I wouldn't have to waste my 10 minutes going to the loo.
'You have to laugh or else you'll cry'
This is where the black comedy comes in. Cue Benny Hill music. I was in the house on my own one day. I got up and made myself a coffee. Then I thought, 'How the hell am I getting this back to the couch with my crutches?' So I put the cup on a plate and used my crutch to push it gently across the floor. By the time I got it to the couch the coffee was cold. Next time I just sat on the kitchen floor and drank it.
Then there were the injections. One blood-thinning injection every night for a fortnight. At this stage there is always a danger of an infection or a clot and that would be pretty nightmarish, so the injections are there to thin the blood and prevent that happening. I was on morphine when they were showing me how to do them. My recollection didn't stretch to figuring out how to take the lid off the syringe. My wife Hayley's aunt is a nurse and she came around and showed me.
These are moments when you have to laugh or else you'll cry. Sweating like crazy while shoving a cup of coffee across a room with a crutch and getting bamboozled because you can't remember what they said about getting the cap off a needle – you have to find some kind of humour in that.
I'm living in the kind of parallel universe where all players with long-term injuries hang out. I've had some incredible days as captain of Scotland over the last while, but this is a time when resilience of a different kind is called for. It'll be a while, but I'll be back.
John Barclay was speaking to BBC Scotland's chief sports writer Tom English
Share if you enjoyed this post!