Last Updated: 21/07/18 12:46am
Naby Keita is convinced Liverpool can compete with Manchester City for the Premier League title this season.
Keita was the first of four eye-catching Liverpool signings this summer, formally completing his move from RB Leipzig on July 1 after a deal was agreed between the clubs in August last year
Fabinho and Xherdan Shaqiri arrived hot on the heels of the Guinea international, before Liverpool completed a £67m deal for Alisson that has seen the Brazilian become the most expensive goalkeeper in world football.
Liverpool have spent more than £170m already this window, leading to many commentators talking up their title credentials.
Asked if he felt his new club have the quality of squad to compete with City this season, Keita said: "I know we have enough quality.
"It's all about having the mindset and desire to want it and fight for it enough. I think that goes a long way, having that desire and belief.
"I'm someone who has this real winning mentality," he added. "I have a huge desire to win. That's why I'm aggressive in a positive sense on the field."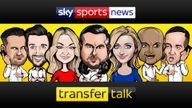 Transfer Talk: Alisson to hand Klopp PL?
The Transfer Talk panel discuss whether Liverpool's signing of Brazil No 1 Alisson will turn them into title contenders.
Asked about the physicality of the Premier League, Keita said: "I don't think that physical aspect is going to have a negative effect on me at all.
"I've watched a lot of English football and I'm getting used to this kind of physical aspect. Through the process of the pre-season friendlies, hopefully I'll be up to speed with it. Winning the ball back is something I like."
Liverpool last month announced Keita has been given the number eight shirt former captain Steven Gerrard wore with such distinction at the club before moving to the Los Angeles Galaxy in 2015, and which had not been allocated to anyone since.
The number eight is special for Keita as it is the number his Liverpool-supporting father Sekou wore during his days as an amateur footballer. The 23-year-old also used to pretend to be Gerrard, when he played football as a child growing up on the streets of Guinea's capital Conakry.
Gerrard himself presented Keita with the number eight shirt and Liverpool's £53m signing has vowed to wear it with pride.
"It was a big shock [when Gerrard gave me the shirt]," Keita added.
"Steven said to me 'everyone's going to be here for you, to help you develop'.
"I'm aware it's a big number here and I'm very excited to wear it. But it's also something I'm not going to put any extra pressure on myself with."
LFCTV is the only place to watch all of Liverpool's pre-season matches live, and hear first on new signings. Go to www.sky.com/lfctv to find out more, or go to Sky channel 425 and press red.
Share if you enjoyed this post!