Last Updated: 26/05/18 11:47pm
Jurgen Klopp admitted the first-half injury to Mohamed Salah 'shocked' his players as Liverpool lost 3-1 to Real Madrid in the Champions League final.
Salah was forced off with a shoulder injury following a challenge with Sergio Ramos after half an hour at the Olimpiyskiy Stadium, and Real Madrid capitalised on the Egyptian's absence as they went on to win the game 3-1.
The Liverpool boss is pessimistic about the initial assessment of his talisman's injury, saying: "I think he's in a hospital for an X-ray. I think it's either the collar bone or the shoulder itself.
"So it doesn't look good. Of course it was a big moment in the game. I know if you say something like that after the game it sounds like you're a bad loser but I thought it was a hash challenge.
"It was like wrestling. He fell on his shoulder and it's a really serious injury. The shock of the boys was obvious and we dropped a little bit.
"Real used that for positive momentum and we settled a little bit at half-time and changed a few things.
"And then the other decisive moments were the goals were quite strange. That's how it is. We all know the result, and that's why we're not in the best mood obviously."
Gareth Bale demonstrated his undoubted quality by coming off the bench to replace Isco with the game locked at 1-1 in the second period, scoring a stunning opener before seeing his second slip through the fingers of Liverpool goalkeeper Loris Karius.
Klopp, who has now lost each of his last six major cup finals, was unable to call upon such quality among his substitutes, watched on as the Welshman took the game by the scruff of the neck and admits Bale was the difference.
He added: "I'd love to say no, but that's probably not the truth. Really, he was very decisive, especially with the bicycle-kick it was an amazing goal, but after that, we hit the post and had set pieces which were absolutely OK.
"The difference is that you need to have a little bit of luck in a final, but we had bad luck. In life you have to accept that, and we'll carry on.
"We can only see all the situations and think, 'wow how has that happened tonight?' Whatever I say tonight, the result will not change."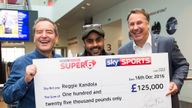 World Cup Super 6
Could you be the next Super 6 winner? Enter your predictions for free here.
Share if you enjoyed this post!