A trial to lower the legal rugby tackle height could cause more concussions, two Scotland players have warned.
The legal level has been reduced from the shoulder line to below the armpits for the 2018-19 English Championship Cup in a bid to make the sport safer.
But Grayson Hart and Richie Vernon, both of whom play in England's second tier, worry tacklers could suffer.
"It's well-meaning but not the solution at all," said Hart. "There's a time to tackle around the chest and shoulders."
London Scottish team-mate Vernon added: "It goes against some people's natural tackling technique to go quite high and I think it'll be really difficult to referee."
Brain expert calls for less contact training
The rate of brain injuries has risen for seven consecutive seasons across English professional rugby, prompting its authorities to release an eight-point action plan.
Scrum-half Hart told BBC Scotland he would be keen to know how many of those concussions have actually been caused by high tackles.
"I see most knocks to the head not on the high tackle, but when a player is tackling low, gets his head in the wrong place and gets a hip or knee to the head," he said.
"The best thing we can do is continue to encourage players to be instinctive and intuitive.
"The more we try and prescribe how to do things, it's going to be less natural and, in my eyes, that will lead to more clumsiness and more injuries."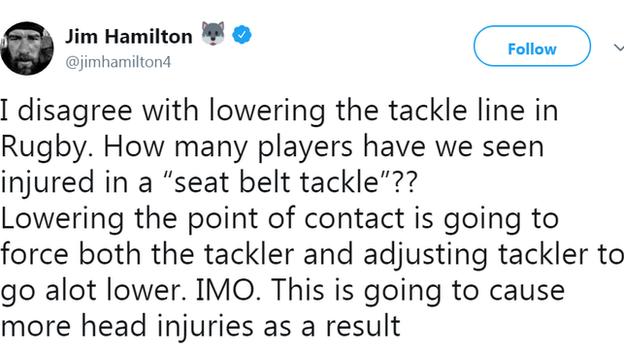 Neither 30-year-old Hart nor Vernon, 31, proposed an alternative to the tackle trial, but both stressed the importance of safe technique in contact.
Vernon added: "We've done a lot of work on neck strength, being able to take tackles and roll out of them. But in terms of rules, it's really difficult.
"I can see why they're trialling something like this. I'm just not sure whether the results will be there."
Scottish Rugby's chief medical officer, James Robson, said the governing body "welcomes innovations and research into all aspects of the sport where player welfare is at the forefront and will monitor the outcome of this study closely."
Share if you enjoyed this post!