By Matthew Treadwell
Last Updated: 20/02/19 6:02pm
Hamilton captain Darian MacKinnon has signed a contract extension with the Scottish Premiership club until the summer of 2020.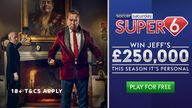 Play Super 6
Predict 6 correct scores for your chance to win £250K.
MacKinnon, who did not start playing professional football until he was 26, has been at the club since 2012 when he joined from Clydebank Juniors.
The 33-year-old has scored 13 goals in 234 games for the Accies and also helps coach the U16s squad.
"It didn't take me any time to decide to sign the new contract – it was a no-brainer," he told the Daily Record. "The fact that I'm doing some coaching helped as well.
"I've grown to love the club, I think everybody knows that, and the fans have been excellent with me.
"You don't want to overstay your welcome but I think I have another couple of years in me yet.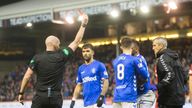 'Foreign refs in Scotland a non-starter'
SFA sources have told Sky Sports News that any proposal to introduce foreign referees into Scottish football would be a 'non-starter'.
"There were a few times that I could have moved on for better money, but money isn't everything in football.
"At Accies they've really looked after me, and it means a lot that they want me to stay after I've finished playing. Talks with the chairman, Allan Maitland, were very positive.
"The club have put me through my [coaching] badges and paid for it all, and they've told me they want me to stay on after I've finished playing. For all those reasons, it was a no-brainer to sign the extension."
Share if you enjoyed this post!