By Shona Duthie
Last Updated: 19/06/18 11:04pm
Belgium head coach Roberto Martinez is looking for his side to improve despite them winning their opening World Cup match.
Belgium won 3-0 over Panama on Monday through a Romelu Lukaku double and Dries Mertens.
Martinez's side take on Tunisia on Saturday before England face Panama on Sunday and their head coach said his side will need to improve if they want to top the group.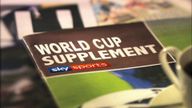 World Cup Supplement podcast
Neil Ashton is joined by Henry Winter and Andy Dunn to discuss England's win over Tunisia
He said: "If you had told me before the game, you're going to win the game by a three-goal margin, you're going to score three goals from open play, beautiful goals, because the hardest thing in football is to score goals and they were beautiful goals from open play, you're going to keep a clean sheet, I would have said this, this is exactly what we wanted.
"You should not look for perfection. We need to improve of course. We want to improve, we need to improve. I think the three games in the group stages, it was always for us to improve in a mental way, in a technical way, in a tactical way.
"I think physically we were very strong, we grew into the game in the second half, we felt physically very strong – which is a great sign. "
The Belgians faced criticism for their first-half performance but Martinez shrugged this off as people are allowed to have their own judgements.
"Everyone has got an opinion and everyone is entitled to an opinion. We have watched their [England] game and to be fair, it was good to see the spirit that they have," he added.
"They [England] scored two goals from a corner, on the 91st minute to win the game. We just are concentrating on ourselves. We need to make sure that we are as good as we can be against Tunisia and then against England. "
Belgium take on England on June 28 at the Kaliningrad Stadium in the final Group G fixture.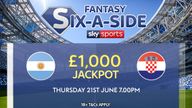 Fantasy Six-a-Side
Pick your dream team for Argentina v Croatia to win the guaranteed £1k jackpot.
Share if you enjoyed this post!