By PA Sport
Last Updated: 24/06/18 10:48pm
Jonny May believes England have rediscovered their mojo after ending their tour of South Africa with a 25-10 victory at Newlands on Saturday.
The damaging six-match losing run that had left Eddie Jones fighting for his future as head coach finally came to an end a week after the series had been surrendered in Bloemfontein.
May finished as the top scorer with three tries, including the critical touch down in Cape Town, and England's most dangerous player across the trio of Tests believes they can now move on after a tough period.
"It was awesome. I feel like the team has got its mojo back," said May.
"In those last 20 minutes we just grew and grew and it felt like the England we are used to playing for. I'm pleased we found it when we needed it.
"There was an awesome feeling in the changing room afterwards because of all the pressure we were under, not just from this tour but also from the Six Nations.
"You wouldn't want to say the old England is back, you'd want to say we'll come back better now because the tough times make you better.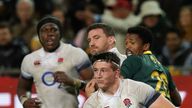 England end losing streak
England ended their six-game losing streak with a scrappy 25-10 win over South Africa at a wet Newlands in Cape Town.
"We know we are good enough to beat South Africa. We didn't feel like they were better than us. They are a good team but we never felt like it was something we were incapable of doing.
"We were gutted with how the results went in the first two games. This win doesn't make it OK but we're in a good place now having won that game. It's a bit of a line in the sand."
England's highlights of the tour were the blistering opening-quarter salvos in the first two Tests at Ellis Park and Free State Stadium that left South Africa reeling until they mounted successful fightbacks.
Some of the most impressive rugby of the Eddie Jones era was seen during those periods and much of the credit for that goes to Scott Wisemantel, the Australian attack coach taken on tour as a temporary appointment but who could now be retained.
"Scott's been brilliant. He's got a good positive energy about him," added May. "He gives us lots of encouragement and I've enjoyed working with him so far.
"He's a really nice, positive guy who brings good energy and good banter. I'd hope he will stay around. We've scored some good tries this series.
"We have definitely made a step forward with the detail he has put on simple plays and if he was to hang around we would keep progressing with what we have started here."
Jones will now attempt to recruit Wisemantel on a competition-by-competition basis.
"He's done really well and the players have enjoyed his coaching," said Jones. "It's a matter of whether he can fix his home situation because he's got a family with three young kids.
"I'm cautiously optimistic that we'll be able to keep him on."
Share if you enjoyed this post!