"Vague reassurances from Foreign Office ministers have not been enough to reassure us that UK nationals will be safe," says select committee chairman
By PA Sport
Last Updated: 08/06/18 12:03am
MPs have voiced concerns about the safety of England fans at this summer's World Cup in Russia and criticised the Government for making "vague reassurances".
With 10,000 UK nationals expected to attend matches at Russia 2018, the Foreign Affairs Committee has published a report into the Foreign and Commonwealth Office's plan to keep them safe.
Anglo-Russian relations have been extremely strained ever since the British government accused their Russian counterparts of trying to assassinate a former Russian spy in Salisbury in March.
That attempt, which was made with a military-grade nerve agent, left three people in hospital and resulted in fresh sanctions on Russia and tit-for-tat expulsions of diplomats.
England fans were targeted by Russian hooligans at the 2016 European Championships in France.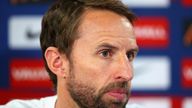 'Racism completely unacceptable'
Gareth Southgate says racism is "completely unacceptable" and he has a plan in place for England at the World Cup if they suffer abuse.
The country's usually large and loud following at major tournaments will be reduced at Russia 2018 but the select committee is still worried that British diplomats in Russia may not be able to cope if problems arise.
In a statement, the committee's chairman Tom Tugendhat said: "The safety and security of UK fans visiting the 2018 World Cup is the responsibility of the Russian government. But the Foreign Office has a duty to offer consular support to all UK fans making the trip to Russia.
"At this late stage, the FCO should be able to demonstrate it can communicate swiftly with all the fans who travel – from basic information announcements to security advice, if required. This includes BAME (black, Asian and minority ethnic) and LGBT (lesbian, gay, bisexual and transgender) fans.
"Vague reassurances from Foreign Office ministers have not been enough to reassure us that UK nationals will be safe, regardless of their background or sexual orientation."
The committee's report did note that "cross-governmental preparations" have been made to provide extra support for fans in the cities where England are playing matches, most notably with "mobile embassies", but said it was more worried about what happens between the games.
It suggested that the expulsion of 23 diplomats, including staff preparing for the World Cup, may have "dented the thoroughness of FCO preparations", and said the page-view statistics for the FCO's dedicated website for Russia 2018 advice are lower than expected.
The 11 MPs on the committee also called on the FCO to set out the "specific assurances" it has been given by the Russian authorities on the safety of LGBT fans.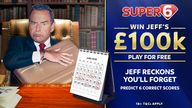 World Cup Super 6
Could you be the next Super 6 winner? Enter your predictions for free here.
Share if you enjoyed this post!