"I won't rule out playing Eastbourne and not playing Wimbledon. I wouldn't rule out not playing a tournament next week and trying to get matches like in an exhibition tournament, as well, to get ready for Wimbledon."
By Raz Mirza at Queen's Club
Last Updated: 19/06/18 9:31pm
Andy Murray will wait to see how his body responds to his first competitive match for 11 months before deciding whether to compete at Wimbledon.
Murray endured a frustrating return from his injury nightmare as the former world No 1 was beaten 2-6 7-6 (7-4) 7-5 by Australian Nick Kyrgios in the Queen's Club first round on Tuesday.
Impressive Murray beaten on comeback
Andy Murray beaten on comeback from injury by Nick Kyrgios at Queen's Club
Murray gave an encouraging display in his first competitive match in 11 months after finally recovering from the hip problem that required surgery in January.
But he could not secure a fairytale comeback as Kyrgios hit back to knock out the five-time winner of the tournament.
The 31-year-old Scot could now be tempted to play in Eastbourne next week, but plans to see how he recovers before deciding whether to play at the All England Club, where he has twice won the Wimbledon title.
"I won't rule anything out just now. I won't rule out playing Eastbourne and not playing Wimbledon. I wouldn't rule out not playing a tournament next week and trying to get matches like in an exhibition tournament, as well, to get ready for Wimbledon," Murray told a press conference.
"I'm not sure yet. I'm really happy that I got on the match court today and played, it was a close decision.
"I have not been practising loads at all. I really haven't played a whole lot of tennis, so I'm happy I got out there and competed and performed respectably.
"I'll kind of need to wait and see what happens the next few days and chat with my team about that, because I don't know exactly what's best for me just now."
The Scot, who last played 342 days ago in Wimbledon 2017, also said he was "feeling decent" but fatigued following a long battle on court against Kyrgios.
"I thought I did okay," Murray said. "I certainly could have done some stuff better, like beginning of the second set I thought my level at times was good; sometimes not so good.
"My left glute is pretty stiff I think from landing on the serve. The longest I have practised in the last year has been an hour and a half. I was on the court for significantly longer than that in a more intense environment. So I'm feeling decent, considering that.
"Hopefully I'm not too sore in the hip after a match like today, and I also physically will have gained a lot from it, as well."
Kyrgios admitted he felt awkward to be the one to beat Murray on his return to the game.
He said: "It was strange because on big points, when I won them, I almost felt bad if I showed any emotion. Like I didn't really want to get into his grill at all.
"But other guys, if I'm up 30, like 30-all or have a match point, I'm probably going to be a bit psyched up.
"It was a very awkward match for me because I was thinking the guy hadn't played a match in a year, and I was getting smoked in the first set. I was, like, 'this is not going to be a good look if I lose this match'."
We have more tennis coverage from the ATP Tour when we head to Germany for the Gerry Weber Open in Halle, live on Sky Sports Arena all this week.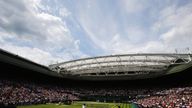 Keep up to date with the latest on skysports.com/tennis
We will have news, previews, live blogs, reports and expert analysis from Queen's, Halle, and Wimbledon. On the move? Head to our app for mobile devices and iPad, or follow our Twitter account @SkySportsTennis to join in the conversation.
Never miss the big kick-off or have to deal with interrupted games or low quality streams with a NOW TV Sky Sports Pass this summer. You'll get exclusive coverage of the 147th Open from Carnoustie, The Ryder Cup. England's summer Rugby tour to South Africa, ATP Tour, World Darts Matchplay, and loads more starting from just £7.99. No contract.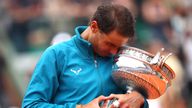 Tennis updates straight to your phone
How to receive all the latest tennis news straight to your mobile
Share if you enjoyed this post!