Head coach Richard Cockerill says Edinburgh are relishing a crack at the "galacticos" of Montpellier and Toulon in the Heineken Champions Cup.
Cockerill's side were drawn alongside the French giants in Pool 5, with English Premiership outfit Newcastle Falcons completing the group.
"We're going to enjoy the challenge," Cockerill told BBC Scotland.
"Nobody expects us to beat Montpellier or Toulon, home or away. All the pressure will be on the other teams."
Cotter is back and gunning for Edinburgh
Champions Cup: Edinburgh drawn against Vern Cotter's Montpellier
Montpellier boast an array of global stars in their squad and have the highest-paid coach in world rugby – former Scotland head coach Vern Cotter.
"I know Vern reasonably well and our paths have crossed a little bit over time," Cockerill said.
"He's clearly a very good coach. He did exceptionally well at Clermont, turned them into a championship-winning team.
"He gave Scotland a very hard edge, got them to a quarter-final – and probably should have been a semi-final – of a World Cup. In one year at Montpellier he's taken them to the Top 14 final. He's got a great track record.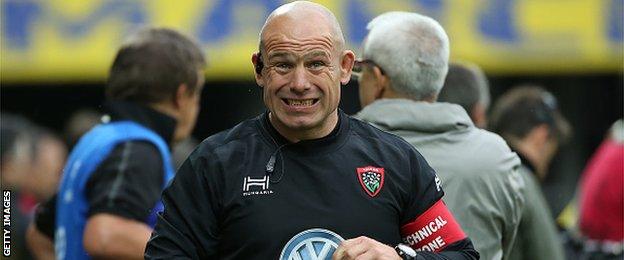 "It's pretty much a galactico squad that he's got at Montpellier.
"The coaching challenge will be one thing, but competing against Montpellier and Toulon, who have basically gathered some of the best players in world rugby to their club sides, is something we should look forward to and test ourselves.
"We've got good players too – we've got a lot of internationals. We're not going to play these sides and lie down and roll over.
"We're going to go into every game in Europe and try and win as many as we can. We'll see how good we are and how realistic that is."
'Edinburgh collective strength must match Toulon brilliance'
Before taking the reigns at Edinburgh, Cockerill had a spell in charge of three-time European champions Toulon, taking them to the 2017 Top 14 final, where they lost to Clermont.
"I certainly know Toulon well," Cockerill said.
"They've just signed (New Zealand wing) Julian Savea. Guys like (Malakai) Fekitoa, (Guilhem) Garrado, (Mathieu) Bastaraud, Liam Messum's joined – they're players you want to test yourself against.
"I know the ins and outs of Toulon and how they operate and maybe their weaknesses, but crikey, when you're playing that quality of opposition, we've got to make sure we're very well prepared, very well coached. The strength of our squad has got to match their individual brilliance."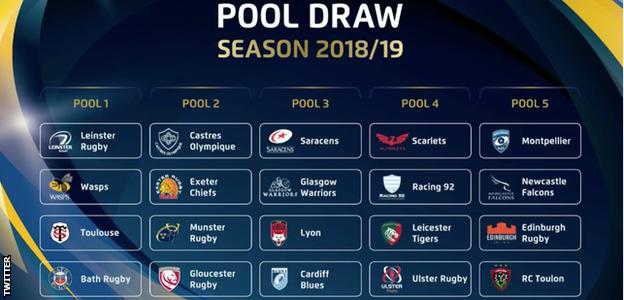 The meetings with Newcastle represent another intriguing sub-plot, with Cockerill pitted against Dean Richards, who coached him during his playing days at Leicester Tigers.
Cockerill said: "Dean has done fantastically well at both Harlequins (from 2005 to 2009) and at Newcastle. They had a big season (finishing fourth) in the Premiership .
"They'll be a tough nut to crack and we shouldn't dismiss them at all. There's the excitement of them being relatively local to us and fans travelling both ways.
"It's a great draw for us, we should get excited about it, our supporters should get excited about it. This is what you qualify for Europe for.
"We are not a club that is mature enough to probably progress and get to the latter stages but, very much like last year, we are going to go into every game this season trying to win. And if we can take the odd big scalp in Europe then we will certainly do that.
"We're good enough to compete and good enough to upset the applecart if we get it right."
Share if you enjoyed this post!