Premiership final – Exeter v Saracens
Venue: Twickenham Date: Saturday, 26 May Kick-off: 15:00 GMT
Coverage: Live radio commentary on BBC Radio 5 live and live text commentary on the BBC Sport website.
When Owen Farrell received a call from Eddie Jones asking him to captain England in South Africa this summer, the Saracens fly-half didn't think twice.
"It's obviously a massive honour to captain your country," says Farrell. "When he [Eddie Jones] asked, that's the first thing that came into my head [saying yes]."
Farrell will replace Dylan Hartley as skipper on England's tour of South Africa next month, but the fly-half says he can't get excited about it until after the weekend.
"Since I got the call we've had a lot to concentrate on here at Saracens, so there hasn't been too much that's gone into it yet," he adds.
Farrell will line up at Twickenham on Saturday for the Premiership final against defending champions Exeter, ahead of England's first Test against South Africa on 9 June.
Before a big summer, the fly-half spoke to BBC Radio 5 live's Sonja McLaughlan about the pressure of captaincy, the influence of his father and his famous stare.
'Pressure is a good thing'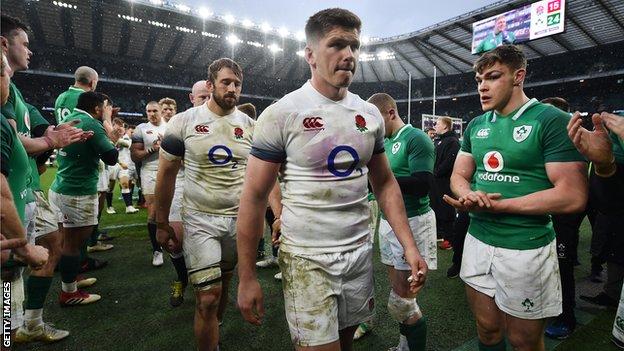 Farrell is taking over an England team who go to South Africa off the back of three consecutive defeats.
The defending Six Nations champions lost to Scotland, France and Ireland to slump to a fifth-place finish in the 2018 tournament.
But the 26-year-old, who has been praised as a "winner" by head coach Jones, likes responsibility.
"It puts a bit more pressure on you to play well but I see that as a good thing," he says.
"The first thing with that responsibility is standing up and talking in front of the team, telling other people what to do. The more you end up speaking the more you've got to do it and the more you've got to front up.
"I've always been comfortable speaking, especially on the field. Probably not as much off the field."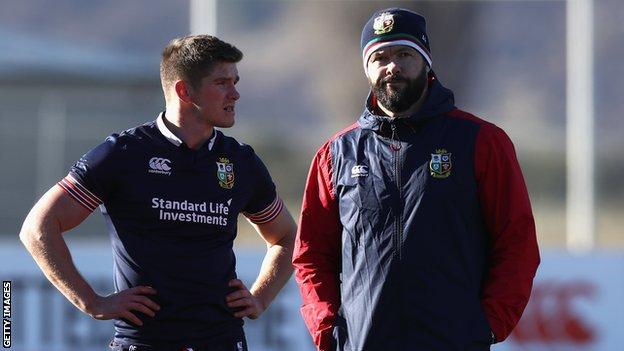 Wigan-born Farrell, the son of dual-code international and Ireland defence coach Andy Farrell, says his father has been a "massive part" in his growth as a leader.
"I've watched my dad talking as a leader since I was a kid," says Farrell Jr. "I always sat on the touchline so I could always hear him. I'm sure it's the other way round now.
"You take advice from where you can, but he has been a massive part of it, growing up not just watching him but also conversations that we've had.
"I've had to learn a lot as well, you try and be yourself as much as you can and make sure you get better and grow."
When announcing his new captain in March, England head coach Jones was keen to stress: "Owen is a completely different character to Dylan.
"He has a different cultural background. Dylan is from Rotorua, Owen is from Wigan."
Northampton Hooker Hartley was ruled out of the summer tour with concussion, and Farrell does not believe the captaincy will impact on his game.
"I'm not trying to be anyone else," he adds. "You can either let the pressure get to you or let it help it make you better. I see it as something to get excited about rather than try and worry about."
'People keep talking about the stare'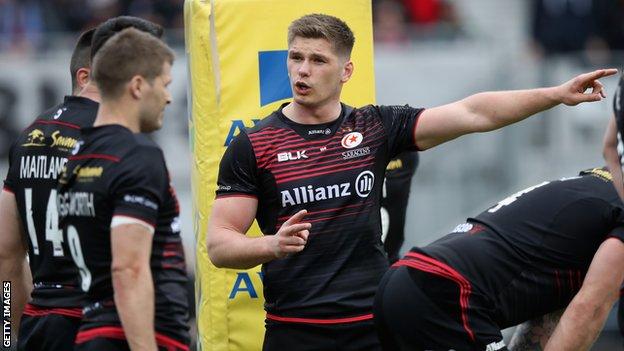 The immediate concern for Farrell is Saturday's Premiership final, and helping his team to clinch a third title in four years.
Centre Brad Barritt will lead Saracens out at the weekend, but Farrell will be expecting his usual high standards from both himself and his team-mates at Twickenham.
"We are very demanding of each other," he adds. "I'd expect it back as well if I wasn't working hard enough.
"I guess all anyone wants to do is to improve and holding each other to those standards is part of that. There's nothing better after you do get it right and you're the first one to pat each other on the back."
When asked whether he is conscious of his famous cold-eyed stare, delivered when a player does not work hard enough on the field, Farrell admits: "I guess so."
But the Englishman is hopeful it will not come out this weekend.
"I'm sure I've done it a few times," he adds. "But hopefully not on Saturday. People keep talking about the stare, but I just never stop talking.
"I think the lads will be right on it this weekend, we can already tell people are excited. I'm sure Exeter are as well and it'll be a good game."
Share if you enjoyed this post!