By PA Sport
Last Updated: 05/06/18 4:56pm
Rangers have demanded that the Scottish Football Association reveals whether outgoing director Gary Hughes had any say in the decision to issue the club with a notice of complaint.
Hampden chiefs announced on Monday that Hughes would not be standing for re-election at Wednesday's AGM following a row over a 2006 interview in which he referred to Rangers fans as the "great unwashed".
The revelation of those comments led Ibrox chairman Dave King to call for Hughes' suspension and a probe into his 2015 appointment.
But the Gers chief is refusing to relent even now that Hughes has decided to walk away.
King has now called on the SFA to explain whether Hughes was involved in discussions over a disciplinary charge issued to the club last month.
Rangers have been charged over their 2011 UEFA licence application following information that was made public during the Craig Whyte trial.
A club spokesperson said: "Rangers notes that Gary Hughes will not be standing again for the Scottish FA's Board. Hopefully this decision augurs well for the Scottish FA under the stewardship of its new chief executive officer.
"However, Rangers will be seeking a review of the SFA's procedures for such appointments because it is vitally important that those who do stand for election to independent posts in particular are indeed truly independent.
"Rangers shall also be asking the SFA to review whether Mr Hughes was party to any discussions regarding the ridiculous notice of complaint brought against the club.
"Furthermore, Rangers must be assured that no actions taken by Mr Hughes during the period of his appointment could have impacted negatively on our club."
As well as taking on the SFA, King has also attacked Scottish Professional Football League chairman Murdoch MacLennan over an alleged conflict of interest relating to his business links with Celtic shareholders Dermot Desmond and Denis O'Brien.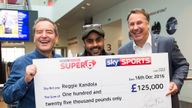 World Cup Super 6
Could you be the next Super 6 winner? Enter your predictions for free here.
Share if you enjoyed this post!