England's most capped player of all time Rochelle Clark has retired from the international game.
The 37-year-old prop, who is known as 'Rocky' and was a World Cup winner in 2014, won 137 caps during her 15-year England career.
"I've lived such a fairytale for the last 15 years," she told BBC Sport.
"Getting my first cap was out of this world but to hit the cap record and surpass Jason Leonard, it's been a dream come true."
She added: "There have been highs and lows but I've loved every minute of it."
'Women's rugby could be fully professional this season'
'A true rugby legend'
Clark will continue to play for Wasps in the Tyrrells Premier 15s next season as well as acting as head coach of Chesham Stags.
She became England's most capped player when she surpassed Leonard's previous record of 114 in November 2016, and retires as the most capped female international player of all time.
She last played for England against Ireland in the 2018 Six Nations, and admitted she only decided to retire from internationals in the last few weeks.
"It's probably time to let the youngsters come in while we're building to the next World Cup," added the veteran of four World Cups.
"But if they ever need me I'd always pull the white shirt back on. I'll probably regret the decision so that's why I'd like to leave the door open a little bit, but I'm looking forward to what happens in the future."
Red Roses' head coach Simon Middleton paid tribute to Clark's service, describing the loosehead prop as "a true legend of rugby".
"She gave as much off the pitch as on it," he said. "She's been an absolute inspiration to us and embodies everything a Red Rose should be."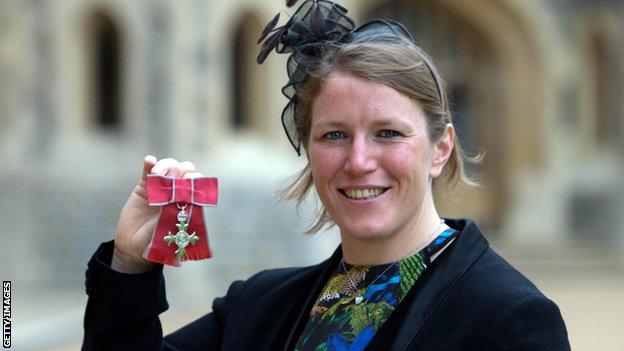 'We simply have to go professional'
Clark, who came on as a replacement against Canada in 2003 to make her international debut, has relished being part of the evolution of women's rugby in England.
"We used to have to pay to train and for the kit, and now how it's evolved, it's been great to make history," she said.
Clark played the majority of her career without a professional contract and has called on the Rugby Football Union (RFU) to fully professionalise the game.
The RFU introduced contracts in the 15-a-side game for the first time in the 2016-17 season, but then controversially decided not to renew them following the 2017 World Cup.
"Having the opportunity to go professional was a massive thing and it paid dividends," added Clark.
"We went to New Zealand and beat them in their own backyard after 16 years and then we had the spectacle of the World Cup final in 2017 with England against New Zealand.
"But it can only be of benefit if we can get professional long term instead of dipping in and out. Other nations are going professional and we simply have to go professional too. We need the time to recover and the hours in training."
Analysis
BBC rugby union commentator Sara Orchard
"We'll probably never see a player of her like again – 137 caps will take some beating, longevity and heart. Known affectionately as Rocky, the England prop has been a pillar of the England squad since her first cap in 2003. Within women's rugby there will be high hopes she continues to grow as a coach in the game – any team will be blessed to have her."
Share if you enjoyed this post!