Ricciardo smashes lap record to claim second F1 pole of career; Australian determined to make up for 2016 woe; Vettel concedes Ricciardo "owned" qualifying;
By Pete Gill in Monaco
Last Updated: 26/05/18 3:59pm
Daniel Ricciardo has voiced his love for Monaco after claiming pole position for Sunday's race but ruled out celebrations until he secures victory in motorsport's most prestigious weekend.
Two years after claiming his first F1 pole position for F1's iconic event only to then lose the race due to a botched pit-stop, Ricciardo smashed the lap record to claim pole from Sebastian Vettel and Lewis Hamilton.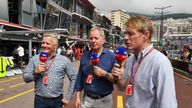 Find out more about Sky Sports F1
Watch every race, qualifying and practice session live with Sky Sports F1 in 2018
"I love this place. A one minute ten [lap] is a lot of fun," said Ricciardo.
Vettel admitted Ricciardo had "owned" qualifying but his team-mate Max Verstappen was unable to take part in qualifying after crashing out in Practice Three.
Ricciardo storms to stunning pole
Verstappen starts last in Monaco
When's the Monaco GP on Sky?
"This place bites hard if you abuse it," rued team boss Christian Horner. "Max is a very fast driver, we know that, and this weekend he has a great car.
"Nobody will be more frustrated than him. He should have been competing for the front row today. There is no more brutal lesson than what he has just had."
Ricciardo has been fastest in every session so far this weekend – topping each practice session as well as every segment of qualifying – around a circuit which is ideally suited to the strengths of the Red Bull car.
Although Hamilton briefly threatened Ricciardo when he set the fastest first sector of all on his flying lap, neither the world championship nor his title rival Vettel had an answer to Ricciardo's dominance.
"I didn't think l could threaten Daniel's time today," admitted Vettel. "We got as close as we could."
Hamilton added: "We knew we wouldn't be as quick here. We did the best we could. We knew what was going to happen this weekend but it is just one race."
Vettel was three tenths behind Riccardo but remains hopeful he can still challenge for the victory as the four-time world champion seeks to restart his season after a difficult run since winning in Bahrain.
"It is nearly impossible to overtake but it is still one of the most fascinating races because things can happen," said Vettel. "The plan is to do a good start and keep up the pressure."
Verstappen's early exit from proceedings also served as another reminder of the perils that lurk around every unforgiving corner in Monaco.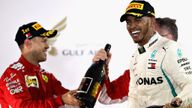 F1 2018: How to watch on Sky F1
On TV, Online, On Demand and on the go…all the ways you can watch every Formula 1 race weekend on Sky Sports F1 this year.
"To be fast, you cant think about those things. I didn't think we needed to overdrive it. But we are all pushing each other. It's no surprise these things happen and when we are lapping in the one minute ten there is very little room for error," reflected Ricciardo.
The Australian was, though, briefly stumped when asked if he would welcome a race in which he didn't have to worry about his team-mate, with whom he crashed a month ago in Baku.
"It's not a bad question! Let's move on."
It was the only hesitation Ricciardo has shown all weekend so far.
How to follow the Monaco GP on Sky F1
| | | | | |
| --- | --- | --- | --- | --- |
| Sunday May 27 | Sky F1 digital live blog | 12.30pm: Pit Lane LIVE | 1.30pm: On the Grid LIVE! | 2.10pm: The Monaco GP LIVE! |
The crown jewel in the F1 calendar returns and you can watch the Monaco GP on Sky Sports F1 and Sky One this weekend. Get Sky Sports F1.
Share if you enjoyed this post!