Summer tour: Argentina v Scotland
Argentina (3) 15
Tries: Lezana, Gonzalez Iglesias Con: Sanchez Pen: Sanchez
Scotland (36) 44
Tries: G Horne 2, Kinghorn, McInally, Bradbury, Fife Cons: P Horne 4 Pens: P Horne 2
Scotland wrapped up their summer tour with a record victory over a woeful Argentina side in Resistencia.
Scrum-half George Horne scored the first of his two tries with barely a minute gone, and the Scots added four more before half-time.
Blair Kinghorn, Stuart McInally, Magnus Bradbury and Horne again capitalised on dismal defence as the Scots led 36-3.
The Pumas rallied with tries for Tomas Lezana and Santiago Gonzalez Iglesias but Dougie Fife crossed for Scotland.
Peter Horne added 14 points with the boot as Scotland put last week's one-point loss to the USA behind them to secure their record win in Argentina, comfortably beating a 12-point victory in 2008.
This was a rout to sit alongside the humiliation the Argentina footballers suffered at Croatia's hands, a systematic deconstruction of their rugby team in front of their own bemused people.
Argentina, playing their last game under their departing and beleaguered coach Daniel Hourcade and with a win return of just three in their last 20 Tests, were a rabble and Scotland were not in any kind of mood to go easy on them.
If there was concern over the rookie half-backs, George Horne and Adam Hastings, then it faded to nothing very early on.
After just two minutes, the pair combined to get Scotland off to a perfect start, Hastings cutting a nice line, breaking a tackle (to say Argentina's defence was paper-bag thin would be an insult to paper bags) before finding Horne running free outside him.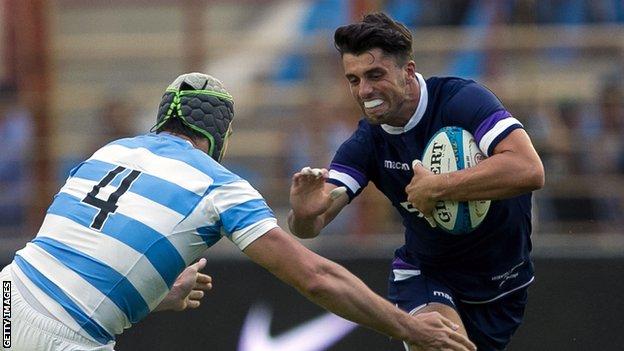 First blood to Scotland, as was the case against the USA in Houston last week. First blood and second blood in Resistencia.
Nick Grigg was next to gallop down the red carpet the Pumas brought with them on the night. Haring into the 22, Grigg was composed, looked both ways and made the right decision in giving it to Kinghorn, who ran on to score.
Ten minutes gone, and with Pete Horne's conversions it was 14-0 to Scotland. They were only getting started, though. McInally took it up off a line-out in Argentina's 22, bust through a non-tackle from Nicolas Sanchez and ran in for try number three and a 21-0 lead.
When Sanchez put over a penalty to reduce the deficit to a mere 18 points, there was almost embarrassed applause from the home crowd, an outbreak of soft clapping that was replaced by more groans soon after.
Agustin Creevy, a great hooker having a nightmarish evening, overthrew at a line-out and Fraser Brown, outstanding at open-side, seized on it and drove the Scots forward.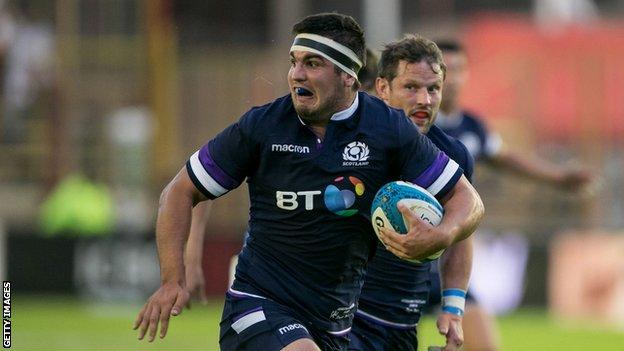 It took them a few phases but Bradbury piled over and with Horne's conversion and then a penalty, Scotland had broken the 30-point barrier inside 30 minutes. The Pumas were squirming, a complete contrast to the Scots, who were revelling in exorcising the horrors of Houston.
Their fifth try arrived before the break, beginning with Brown turning over Pumas ball inside his own 22. Scotland carried on downfield where, at the pivotal moment just 5m from the Argentina line, George Horne dinked a little chip in the air which Hastings batted back to his scrum-half.
Horne, a try-scoring machine for club and now, seemingly, for country, touched down for his second of the game.
The young men embraced in celebration of their one-two as well they might. It was a lovely piece of improvisation and far too much for the Pumas to handle.
Scotland gave up a handsome lead in America, but there was never the remotest suggestion that the same physical deficiency and ill-discipline were going to be repeated.
Ten minutes into the second half, Tomas Lezana, the blind-side, went over for a try converted by Sanchez but Scotland responded in quick order.
Off a scrum in the Pumas' 22, Scotland threw in all sorts of deception and dummy runners before Stuart Hogg threw a superb long pass off his left hand to Dougie Fife, who could have crawled over given the space he was in.
Santiago Gonzalez Iglesias got Argentina's second try, but Peter Horne checked any momentum they might have kidded themselves into thinking they had by making it a 29-point game with a penalty.
It meandered to a close. The Pumas had taken enough punishment and had nothing left to give.
Scotland, meanwhile, coasted home knowing that they had done their work in that tumultuous first half. After Houston, this was a huge response and a fine way to end their trek.
Team line-ups:
Argentina: Emiliano Boffelli, Bautista Delguy, Matias Orlando, Bautista Ezcurra, Sebastian Cancelliere, Nicolas Sanchez, Martin Landajo; Javier Diaz, Agustin Creevy (captain), Nahuel Tetaz Chaparro, Guido Petti, Matias Alemanno, Tomas Lezana, Pablo Matera, Leonardo Senatore.
Replacements: Julian Montoya (for Creevy, 49), Santiago Garcia Botta (for Diaz, 49), Santiago Medrano (for Tetaz Chaparro), Marcos Kremer (for Alemanno, 56) Tomas Lavanini (for Matera, 56), Gonzalo Bertranou (for Landajo, 56), Santiago Gonzalez Iglesias (for Ezcurra, 56) Juan Cruz Mallia (for Orlando, 66).
Scotland: Stuart Hogg, Dougie Fife, Nick Grigg, Pete Horne, Blair Kinghorn, Adam Hastings, George Horne; Allan Dell, Stuart McInally (capt), Simon Berghan, Tim Swinson, Grant Gilchrist, Magnus Bradbury, Fraser Brown, David Denton.
Replacements: George Turner (for McInally, 66), Jamie Bhatti (for Dell, 49), Zander Fagerson (for Berghan, 49), Ben Toolis (for Swinson, 5), Jamie Ritchie (for Brown, 59), Sam Hidalgo-Clyne (for G Horne, 66), James Lang (for Hastings, 72), Chris Harris (for Grigg, 59).
Share if you enjoyed this post!