England face Sweden in World Cup quarter-finals on Saturday
Last Updated: 04/07/18 11:45pm
Gareth Southgate is juggling injury concerns ahead of a World Cup quarter-final that he hopes will prove to be just the start for his young side.
England secured their place in the quarter-finals by beating Colombia on penalties on Tuesday to set up a clash with Sweden on Saturday.
Southgate is not taking the occasion for granted but he believes it could become an increasingly regular occurrence given England's talent.
"I think in terms of what they are capable of over the next few years, they are going to get better," Southgate said.
"In this tournament we now have to assess all the injuries and see where we are.
"For sure, going to extra-time, I'm pleased we did what we did in the Belgium game even more because I think it's an accumulation of fatigue making things more difficult.
"But now we have a chance to reassess and it will be a tough game for sure. Because Sweden are often underestimated and I have real respect for Sweden.
"They are always more than the sum of their parts. Our historic record against them is another one we have to put right.
"But I think we have always viewed them at our level and I don't think that's right because their tournament record is better than ours."
Jamie Vardy is a doubt with a groin strain that Sky sources understand led the striker to have an injection after the match, while Dele Alli, Kyle Walker and Ashley Young also need checking.
"I think he's fine," Southgate said of Alli.
"We felt it was probably a good time to try solidify a little bit and with hindsight it was probably a good thing that he didn't go to extra-time because that would have put him at a bit more risk.
"So, hopefully he's come through it OK.
"We have got to check a couple. I think Kyle's is cramp. We've got to check Ashley's, which is more of an ankle. Vardy feels a bit with his groin.
"You never know with cramp whether that is just cramp or something a little bit more.
"But that will take a good 36 hours. We are probably a little bit behind on our prep but we will judge that."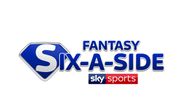 Fantasy Six-a-Side
Pick your dream team for Belgium v Brazil to win the guaranteed £1k jackpot.
Share if you enjoyed this post!