Adam Bate
Comment and Analysis @ghostgoal
England manager does not deserve criticism despite 1-0 defeat
Last Updated: 29/06/18 12:07am
England coach Gareth Southgate has put himself in the firing line but it was the correct call, writes Adam Bate.
If much of Gareth Southgate's focus so far has been on lifting the pressure on this England team, it is about to get tougher now. A 1-0 defeat to Belgium with a second string line-up means that Southgate's side face a trickier looking last-16 tie against Colombia instead of Japan. If the result does not go England's way, expect the manager to be heavily criticised.
Southgate is already being accused of surrendering the momentum by resting key players rather than chasing victory at all costs in order to top the group. If that decision results in defeat to the Group H winners on Tuesday then his perceived folly will be confirmed in the minds of his critics – he will be the one who undermined England's chances.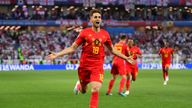 Januzaj goal puts England second
England qualified as runners-up in Group G and booked a World Cup last-16 date with Colombia as Adnan Januzaj earned a 1-0 win for Belgium on a curious night in Kaliningrad.
What happened to winning at all costs? Those cries have already begun. "You think Churchill ever deliberately lost a battle to win a war?" asked the ubiquitous Piers Morgan, showcasing his trademark grip on perspective. For the doubters, and they can always be found easily enough when anything goes awry, this was not only cowardice but also arrogance.
That accusation stems from the suggestion that neither England nor Belgium were particularly keen on topping the group because it would put them on a quarter-final collision course with World Cup favourites Brazil. But it really does not require any great intellectual contortions to accept that some paths to glory might be easier than others.
Taking the argument to its nth degree serves to ram home the point. What if it were the Dog and Duck pub awaiting England in the quarter-finals after playing Colombia, with ninety minutes against the Red Lion in their way if they wanted to reach the final? Surely then, it would make sense to avoid the half of the draw that includes Brazil and the rest?
Of course, Sweden and Switzerland are no pub teams. But once the principle is established that it can be advantageous to take the less daunting path to the final then everything else is haggling over the odds. And it is worth noting that the bookmakers – not known for their profligacy – shortened England's odds of World Cup glory even in defeat.
Much of the rest of the criticism is disingenuous, as Southgate well knows. "If we had put Harry Kane on for ten minutes and someone had whacked him on the ankle that would have been ridiculous," he told reporters in his post-match press conference. It would certainly have resulted in copious criticism directed at the coach who had taken that needless risk.
Southgate's preparations for this tournament have been exhaustive – something for which he received much praise in the build-up to this World Cup. Perhaps there should be similar levels of gratitude, now things are intensifying, that the England coach has not succumbed to the hysteria which greeted both his selection and the subsequent scoreline in Kaliningrad.
His decision should not be viewed as controversial but logical. England will have to play five matches in 18 days if they want to win this World Cup. Taking the chance to give a rest to his most important players, most notably Kane, was not an opportunity that any coach with grand ambitions in Russia could possibly forego. Roberto Martinez made the same call.
In addition, Southgate has placed huge stock on the importance of the group, and in rotating his team he has managed to ensure that all 20 of his outfield players have now seen action at this World Cup. Not only is that likely to help morale but it also gives Southgate more reason to believe his back-up options are fit and ready to make an impact if needed.
As a result, far from an act of cowardice by the England coach, it is actually his critics who have exposed their own poverty of ambition. The only thing Southgate is guilty of is preparing his players to contest seven games rather than four or five. Looking beyond the last 16 is not arrogance. It is a coach who is willing to see the bigger picture.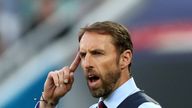 Southgate: I'll take the criticism
Gareth Southgate is willing to accept any criticism that comes his way after making eight changes for England's World Cup defeat to Belgium.
"When you're a manager you've got to make decisions that are right for your group and are right for the primary objective," Southgate explained afterwards. "Sometimes those decisions will be criticised and I understand that. Only one person has to make that decision with the full facts and the intricacies of managing a group and a tournament.
"Trying to balance all of those objectives and trying to win can be difficult but sometimes you have to look at the bigger picture and make decisions that might, in some quarters be criticised but I am entirely comfortable with that. I think everybody in our dressing room and our group understands what we're trying to do."
None of that will count for much if England cannot beat Colombia. The result against Belgium and the furore surrounding it has made sure of that. Deliberately or otherwise, Southgate lost this battle. But if he can cope with the increased pressure and continue to deflect it away from his players, his chances of winning the war have not diminished.
Comment below to get involved in the debate, but please adhere to our House Rules. If you wish to report any comment, simply click on the down arrow next to the offending comment and click 'Report'.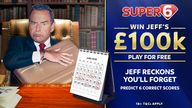 World Cup Super 6
The jackpot was won again on Tuesday night. Will you be the next winner? Enter your predictions here.
Share if you enjoyed this post!