Last Updated: 28/06/18 7:29am
Sporting Lisbon fired coach Sinisa Mihajlovic on Wednesday, just nine days after he was appointed by former club president Bruno de Carvalho.
De Carvalho announced he was standing down on Sunday after Sporting supporters voted for him to resign.
Mihajlovic was recruited on a three-year contract by De Carvalho on June 18, but dismissed following a general meeting of club members.
"Sporting have decided to end his probationary period and cancel his contract," said Jose Sousa Cintra, the club's new president at a press conference.
"We will quickly seek a new coach, who should be presented by Monday."
The trouble at the club began when Sporting lost a Europa League game to Atletico Madrid in April and De Carvalho tweeted ferocious criticism of the players.
When they responded demanding "respect", he called the players "spoilt brats" and suspended 19 of them, only to back down ahead of the next match.
Shortly before Sporting lost the Portuguese Cup final to unfancied Aves in May, a 50-strong mob of fans invaded the training centre, attacked the squad, savagely beating some players.
Nine players including Portugal internationals at the World Cup Rui Patricio, William Carvalho, Bruno Fernandes and Gelson Martins have broken their deals with the club since the attack.
Coach Jorge Jesus also quit the team, paving the way for former AC Milan and Torino boss Mihajlovic.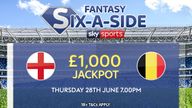 Fantasy Six-a-Side
Pick your dream team for England v Belgium to win the guaranteed £1k jackpot.
Share if you enjoyed this post!