Granqvist scored penalty in Sweden's 1-0 victory over South Korea
Last Updated: 18/06/18 7:30pm
Andreas Granqvist says an incident involving a Sweden 'spy' at a South Korea training camp was "blown out of proportion".
A member of Sweden's coaching staff made it into a closed training session during South Korea's training camp in Austria – thinking that it was an open session – and was asked to leave.
Much had been made of the incident ahead of the World Cup opener between the two sides on Monday, which Sweden won 1-0 thanks to Granqvist's penalty.
The captain addressed the controversy after the game, saying: "I think this has been blown out of proportion. The person monitoring South Korea for us by accident, during one training session, was possibly hiding.
"It's been focused on too much. It was a good game out there, an honest fight between two good teams.
"I think we showed an excellent attitude out on the pitch. We are a team with fight. We run on behalf of each other. I am incredibly proud of all the lads and now we focus on the next match against Germany."
Sweden coach Janne Andersson questioned why VAR needed to be used in his side's World Cup victory after their penalty was awarded with the technology – but was pleased it was.
Speaking in his post-match press conference, he said: "I do question a little bit the VAR in this case – it wasn't even needed, it was crystal clear.
"From the position the referee had, he could have blown for the penalty straight away. The wait was unnecessary. But, if for some reason he missed it, it was excellent he was able to use the VAR."
With World Cup holders Germany having been beaten by Mexico in their first match, Sweden's victory has put them in a strong position in Group F.
Andersson said: "Germany's defeat did possibly make it more important to win. I was just focused on this game and wanted to win it but, looking ahead, the opportunities for us now are so much greater after winning."
Korea's gameplan had focused on negating Sweden's physicality and coach Shin Tae-yong conceded they may have become too preoccupied with that issue.
He said: "Among the 32 teams at this World Cup, I think Sweden are one of the tallest. They are going to be very threatening because of their height. They are able to take advantage of this and their physical condition.
"We were worried about the height of the players and I think we became a little bit too subdued. That is probably why the Sweden goalkeeper was so under-employed.
"We really wanted to win this match. It's unfortunate that we couldn't win but now our attitude is that we have to prepare ourselves very well for the match against Mexico."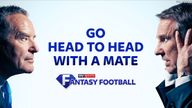 Fantasy Head to Head
Challenge a mate in our brand new Fantasy Football head-to-head mode. Play for free!
Share if you enjoyed this post!