South Africa v England, first Test
Venue: Ellis Park, Johannesburg Date: Saturday, 9 June Kick-off: 16:05 BST
Coverage: Live commentary on BBC Radio 5 live and online. Live text commentary on the BBC Sport website and app
"Siya running out in front of the team in Johannesburg is an unbelievably pivotal moment in South African rugby history" – Bryan Habana
Since emerging from the depths of apartheid in 1994, well in excess of 50 black or mixed-race players have played rugby for South Africa.
However, in 127 years of history, no black man had been entrusted with the ultimate honour in South African sport; to lead the Springboks into battle in a Test match.
It is why figures such as Bryan Habana – a Springbok great, himself of mixed race – believe Siya Kolisi's appointment as captain for the forthcoming series against England, which starts on Saturday at the grand Ellis Park in Johannesburg, is a watershed development for not just South African rugby, but the country as a whole.
"It's a monumental moment for South African rugby, and a moment in South African history," Habana, a World Cup winner in 2007, told the BBC's Rugby Union Weekly podcast.
"From where Siya has come from, from his humble beginnings, having worked unbelievably hard to get to this moment – it's absolutely fantastic. I couldn't be more proud. I texted him last week and told him how important this is."
Rugby Union Weekly: Bryan Habana previews South Africa v England
'Breaking the shackles of poverty'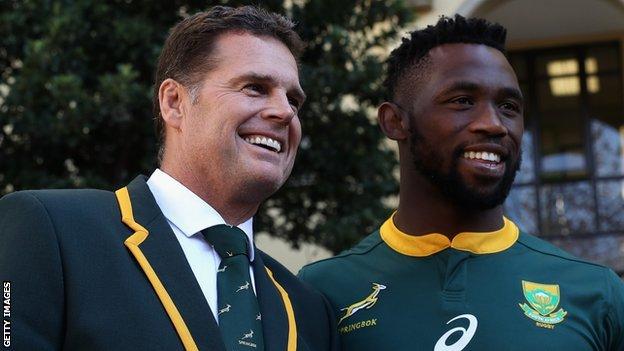 Born into poverty and raised by his grandmother in the Zwide township of Port Elizabeth, Kolisi's story is a significant one.
"So many people in this country come from a similar background, and he has been able to break the shackles of poverty to get to where he is," said Vata Ngobeni, a journalist and SABC rugby analyst who knows 26-year-old Kolisi well.
"It is extremely inspiring, and one that means more than just him becoming Springbok captain. I don't think a lot of black people thought in their lifetime they would see a black Springbok captain. It brings back the dignity of black South Africans who have been involved in rugby for a very long time."
Kolisi's route out of the townships came courtesy of Grey High School's Outreach Programme, which helps students from disadvantaged communities.
"He was a fish out of water. He came here and couldn't speak English but despite those limitations he was a very likeable kid and had something very special about him," Fenner Barnard, Kolisi's boarding master at Grey, told BBC Sport.
After representing the school 1st XV and then Eastern Province, he moved west to Cape Town, where he has played more than 100 times for the Stormers.
"When I first saw this young kid come from the Eastern Cape into the Stormers set-up, you had this youngster who was just so eager to overcome what he has had to overcome," added Habana.
"He had to overcome quite a few difficulties, but he is a player and a person that's got an immense amount of zest for life. He is one of the most enjoyable people to be around."
An athletic, dynamic flanker, Kolisi's race means he has had to contend with suggestions he has been a "quota" selection during his career; an accusation without basis given his form at Super Rugby level before and during his time as a Springbok.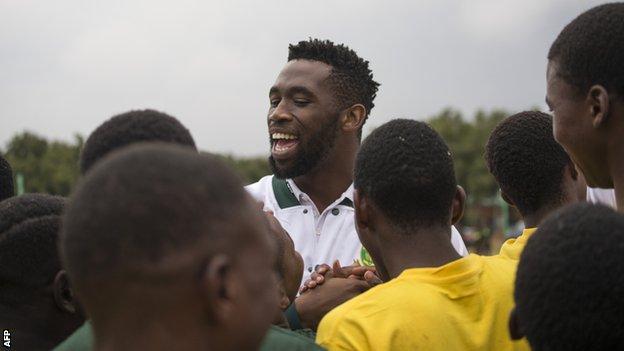 Despite a dip in form domestically this year, Kolisi was perhaps South Africa's outstanding player during a difficult 2017 for the side.
"What's important is as a player he deserves it," added Ngobeni. "We do have issues in the country – there is a 'quota' system – but Siya deserves to be there."
Barnard, who also coached Kolisi at rugby sevens in his final two years at Grey, says his former pupil has "broken the glass ceiling".
"This is a huge moment, it's cathartic for the whole country and it's bigger than rugby," he added.
"Rugby in this country is bigger than a game and being the national captain is bigger than deciding who should kick for touch. His position as a public figure going forward is massive and a huge game changer for the sport and for our country."
'A true South African'
Racial tensions in South African sport, and society, still pervade, but Habana is among those to hope that Kolisi's ascension to the Springbok captaincy will prove to be groundbreaking.
"What Siya has been able to do both on and off the field, is show himself as a true South African. He is an inspiration, not just for black people – he overcomes quite a few racial boundaries."
Ngobeni agrees that Kolisi is a man who truly represents the rainbow nation.
"He is married to a white South African, they have coloured [the South African term for mixed race] kids – it is a true South African story and what a lot of South Africans would love to strive for going forward," he said.
"One goes back to 23 years ago when Nelson Mandela wore the number six jersey, the one that Siya will be wearing in the first Test against England, and that got everyone behind the Springbok side.
"It couldn't have happened to a better player – and a better person."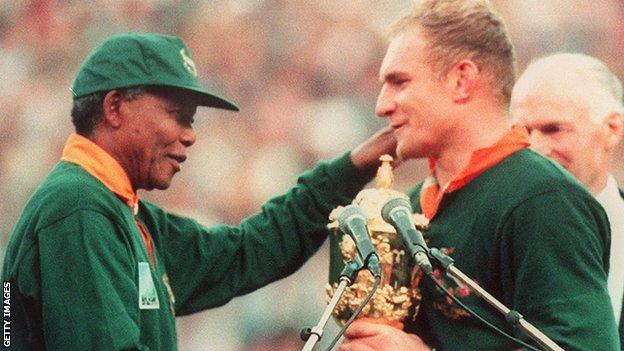 Habana, who scored a record 67 tries in 124 appearances for his country, says he cannot wait to support the start of South Africa's new era on Saturday (16:05 BST kick-off).
"For all of us to see Siya running out as captain of the Springboks this weekend is going to be absolutely inspirational," Habana added.
"Hopefully it inspires, gives hope and allows people to overcome a lot of adversity that they are facing on many fronts in South Africa at the moment."
England have 'once-in-a-lifetime' opportunity against South Africa
New Zealand-born Shields on bench for England
Rugby Union Weekly: Bryan Habana previews South Africa v England
Share if you enjoyed this post!