Last Updated: 05/08/18 11:43pm
Watch the moment England bowler James Anderson almost suffered a nasty injury while playing golf with Stuart Broad.
Anderson and Broad were enjoying a day off after their victory in the first Test against India, but there was a scary moment when Anderson was taking a shot from the woods.
He took a swing, but somehow the ball cannoned off a tree root and shot straight up into his face from point-blank range.
Thankfully, Broad said Anderson is "perfectly fine".
England have announced two changes to the squad – Ollie Pope replaces Dawid Malan, while Chris Woakes comes in for Ben Stokes.
Watch the video above to see the shocking moment Anderson took the ball directly in the face.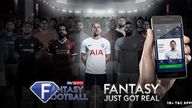 Fantasy Football is back!
Fantasy just got real. Pick your Sky Sports Fantasy Football team for free here.
Share if you enjoyed this post!