Last Updated: 23/05/18 3:16pm
We take a look back at some of the most memorable moments from the Championship play-off finals.
From Dean Windass' belter for Hull and Clive Mendonca's hat-trick for Charlton, we revisit some classic memories right up until last season's dramatic penalty shoot-out between Reading and Huddersfield.
This season's Championship play-off final between Aston Villa and Fulham takes place on Saturday at Wembley, live on Sky Sports Football from 4pm.
Hit play on the video at the top of the page to see some classic Championship play-off final memories from previous years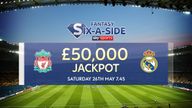 Fantasy Six-a-Side
Pick your dream team for the Champions League final to be the latest £50k jackpot winner.
Share if you enjoyed this post!