Last Updated: 19/06/18 10:53am
One street in Oldham takes drastic measures every time a major tournament comes around, and that's because it's called Wales Street…
"If the World Cup dream lives anywhere in the UK, it's got to be on this street in Oldham," says Sky Sports reporter Ben Ransom.
The street, officially known as Wales Street, has been changed to England Street for the World Cup, with flags and bunting dominating the road.
One local resident told Ben that it started as a joke around 10 years ago, but has since become tradition.
Hear from the residents of 'England Street' in the video above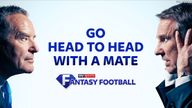 Fantasy Head to Head
Challenge a mate in our brand new Fantasy Football head-to-head mode. Play for free!
Share if you enjoyed this post!