Last Updated: 22/05/18 11:19pm
Catch up on all the big headlines from Sky Sports News in our video bulletin.
SSN in 60 Seconds brings you the major stories and breaking news in just one minute.
Harry Kane says he is dreaming of lifting this summer's World Cup.
Stoke have named Gary Rowett as their new manager.
And Britain's Simon Yates has taken a huge step towards winning cycling's Giro d'Italia.
Hit play on the video at the top of the screen now for our quickfire round-up…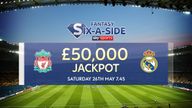 Fantasy Six-a-Side
Pick your dream team for the Champions League final to be the latest £50k jackpot winner.
Share if you enjoyed this post!