Scottish Rugby chief executive Mark Dodson says he has not considered standing down after Keith Russell, the organisation's former director of domestic rugby, won an unfair dismissal case.
Russell, the father of Scotland international Finn, waived a non-disclosure agreement and claimed there was a "toxic" culture of "unaccountability" in the upper echelons of the organisation.
Scottish Rugby defends culture
Scottish Rugby 'toxic', says ex-director
In response, Dodson says that description of the SRU's governance is "not something I recognise" and added that "if there's been a process failure here then I'm sorry".
The SRU announced a review would be instigated to look at the whole affair, chaired by board member and former solicitor general Lesley Thomson QC and Dodson says there will be "no cover-up, no secrets, we have nothing to hide".
SRU president Rob Flockhart also defended the organisation, saying "some of the criticism has been laughable. I feel very, very strongly about it".
Dodson (MD) and Flockhart (RF), sat down with me (TE) at Scotland's team hotel in Houston for a Q&A session to speak about the issue for the first time.
TE: Do you accept the tribunal's verdict that you unfairly dismissed Keith Russell?
MD: Yes, we do.
TE: Do you owe Keith Russell an apology?
MD: I'm sorry that we arrived at this regrettable situation and we'll learn any lessons that the review recommends.
TE: Are you going to apologise to him?
RF: I think a lot has to do with what will come out of the review.
TE: The tribunal judge was very clear in his criticism of the SRU's multiple failings. He called the dismissal "both procedurally and substantively unfair". There was a lot of detail that reflected badly on you and the union. Was Keith Russell a victim of corporate bullying?
MD: This will all be looked at by the review.
TE: The review is being chaired by a member of the SRU board. Where's the transparency?
RF: Lesley is a former solicitor general and she should take any external legal or business advice she feels necessary.
TE: Lesley Thomson's credentials are beyond dispute. However, if you are having a review, why not have a wholly independent review? Why not let an outside agency come in, lift the bonnet and see what's there?
RF: Because I don't think that's appropriate at this time. It may be that Lesley comes out and says we need to take this further.
TE: Can you appreciate the optics of this? Scottish Rugby is saying that a member of the SRU board is overseeing a review of the actions of the SRU board.
RF: That's the role of non-executive directors.
TE: How can a member of the SRU board sit in judgement of the SRU board?
RF: Because it's a review of a process by which…
TE: But the process has been exposed as unfair, a man has lost his job unfairly. All the board members would presumably hold their hands up to this?
RF: She's been encouraged to use any amount of external advice. We have to move that down the line.
TE: Mark, you wanted Keith Russell out, but the tribunal says that you didn't give clear reasons why you wanted him out and that was part of why they deemed his dismissal as unfair.
MD: I gave clear reasons why at the tribunal.
TE: The judge says you didn't.
MD: We gave a good deal of evidence around the reasons why we wanted to make the change. You can't say we didn't give clear reasons.
TE: It's repeated in the verdict that you didn't give clear reasons, that you gave vague assertions.
MD: We've already said that we had some disagreements with the verdict.
TE: You dismissed him and he had to remove himself from the workplace with immediate effect. His phone and email were cut off. Is this fair?
MD: I can't comment on that.
RF: It'll be covered in the review.
TE: Is this how you do business? Have you done this before?
MD: If you look at my track record in the seven years I've been here, this is the first industrial tribunal. We've never been anywhere near a situation like this. We have a big organisation. It's a high-pressure environment. Some people leave and some people are asked to leave. The idea that this is something that happens on a daily basis is entirely false. If you look at the track record over the last seven years, on and off the park, you don't achieve what we have achieved with a demotivated workforce and a toxic culture.
Dodson 'first class' in dealings with Cockerill
Father's sacking 'awkward for Russell'
TE: Keith Russell is well respected. He knows the club game better than most, he's steeped in community rugby. Is it the case that he disagreed with you too many times and you decided he had to go?
MD: Absolutely not. We worked hard to get Keith in the first place and were delighted to get him. It was a disappointment to me and other people in the organisation that it didn't work out.
TE: He says it's your way or the highway.
MD: I don't recognise that. I'm running an organisation where some tough decisions have to be made every day. There's always going to be clashes. If you look at how many people have worked with me and worked with me for a long time, you will see that this is an extraordinary circumstance – not an ordinary circumstance.
RF: I don't recognise this 'my way or the highway'. I've been there for the last three years, I have worked closely with Mark and we have had some very serious disagreements; some I have won, some he has won. The board regularly review Mark. The council have a quarterly review of what he does. There is a robust process in there. I don't know why, suddenly, there's a suggestion that it's his way or no way.
TE: Was the judge's tribunal decision an embarrassment for the SRU?
RF: There's no doubt. That's why we are having a review.
TE: How embarrassing for you?
MD: Me personally? Nobody wants to be talked about in those terms, nobody wants the organisation talked about in those terms. I'm disappointed and I'm unhappy that we have been represented in such a way. It's not true.
TE: Clearly there are disaffected people in the organisation.
RF: That's why there is huge onus to get this review sorted.
MD: I don't think for a second that everyone thinks I'm the greatest thing that ever walked the earth. In Scottish Rugby, progress over the last 30 years has been glacial. Things don't work unless you really drive change through. Sometimes people can get disaffected, but if you don't take a strong line then nothing happens. One of the big criticisms before I arrived was that nothing happened at the SRU.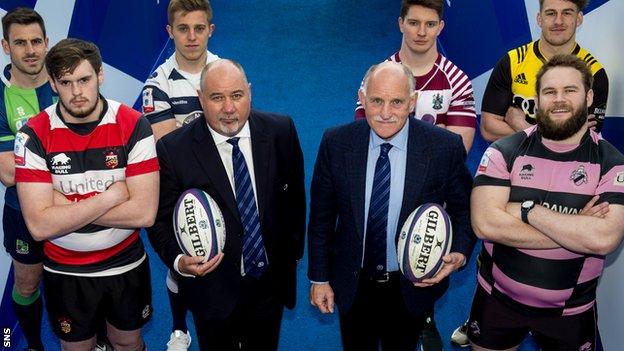 TE: Let's return to the review of the governance. It's not an independent review. It's you looking at yourselves and, for some, it's going to confirm the view that you're not open or transparent.
MD: If we went outside and got an independent company to look at it, it's probably going to take months to understand the workings of the union. Then we'd be criticised for not doing it quickly enough. It's a difficult balance.
TE: Keith Russell says: "This is not how a national organisation that prides itself on the values of rugby should behave." He calls the governance unethical and demeaning of a national organisation. He says the culture is toxic. It was an extraordinarily damning critique of the way the SRU is run as he saw it from the inside.
MD: It's his opinion of what went on. And it may be extraordinary, but we don't recognise it, we don't see that behaviour taking place.
TE: Maybe you're too close to it.
MD: That's the purpose of having a review, to have a look at how healthy the organisation is. But I'll say this. Sportscotland have just done an audit on us. [Auditors] KPMG came in and talked to everybody in every part of the building and we got the highest possible results.
RF: And that was an independent review.
MD: They came in at every level talking to people and they're not seeing what Keith was seeing.
TE: Will your review be published?
RF: I'm not committing one way or another as to how this will be reported back.
TE: That's not a 'Yes, we will publish'.
MD: We're not hiding. When the recommendations come out from Lesley Thomson, they will be incorporated into our methodology going forward. There will be no secrets. If she's got criticism of me or other people then so be it. There is no sense of a cover-up. Are the recommendations going to be published? Yes, because I don't walk around with a cloud over the organisation. We've got nothing to hide.
TE: So it will be published?
MD: Yes, but certain confidential detail will have to be redacted.
TE: If there is heavy criticism of you, will it be published?
MD: Yes, because I don't think Lesley would tolerate it otherwise. Whatever comes out, I am very happy.
RF: Having said that, it won't be Mark's decision to publish. Mark is an employee of the board and the board will discuss it.
TE: Have you considered your position?
MD: No.
TE: Have you reflected on your management style?
MD: I always think about it. How it's depicted here – autocratic and this and that — it's somebody's opinion.
TE: Keith Russell says there is a group at Murrayfield that has no concept of community rugby and its impact on community life. It's all about the pro teams. Is this true?
RF: It's laughable. I'm sorry, I feel very, very strongly about this. We have spent the last two or three years speaking to clubs. Keith and I sat together at meetings. I've been to 100-150 meetings about the domestic game, which is hugely important to us all. I just don't understand that suggestion.
MD: I've talked to hundreds of people. If we didn't care and weren't engaged with club and community rugby, why would we spend so much time on it?
TE: Why has Keith Russell gone so strong?
MD: I have no idea. I can't answer it.
TE: I thought I'd hear a bit more contrition after the judge was so categoric in his tribunal verdict.
MD: We regret very much getting ourselves into a position like this, we regret that Keith feels the way he feels. Why would I want a former senior manager feeling this way? What I'm saying is that it's not representative of how we manage. If there has been a process failure here, I'm sorry for that, but I'm sat with a president who's been here for three years and who has never seen that behaviour from me. There's an incoming vice-president, Dee Bradbury, who said last week that she wouldn't be part of an organisation that displayed the kind of behaviour that I've been accused of. I'm finding it quite difficult to understand why these charges have been laid at my door given the fact that it's quite clear that people don't see it the way Keith sees it.
RF: To recap, be under no doubt how serious we're taking this review. We have to get to the bottom of it, we have to learn from it.
Share if you enjoyed this post!