By Richard Damerell
Last Updated: 13/08/18 12:32pm
David Allen has drawn up his own five-man wishlist of potential opponents after receiving his next fight date in Newcastle.
'White Rhino' has rejuvenated his career with a stunning knockout win over Nick Webb at The O2 last month and appears on the undercard for Lewis Ritson, with Joshua Buatsi also featuring on the Metro Radio Arena bill on October 13, live on Sky Sports.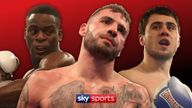 Ritson returns on Sky Sports
Lewis Ritson is back at the Metro Radio Arena in Newcastle with Joshua Buatsi and David Allen on the same bill.
With Allen's opponent yet to be confirmed, we asked the 26-year-old to name a crop of heavyweights that he wants to face in the near future…
Robert Helenius
I want him. I'm not saying I want him next, but I want him before the year is out. I really like Robert, I think he's an absolute gentleman. He's a big name, but at this stage of his career, he's beatable, and I want to put myself even further on.
I've got so much hunger in my chest, and I think Robert's the perfect fight for me at the end of the year. He's no 1.
Lucas Browne
I like Lucas Browne as well, but he's a former world champion, he's another massive springboard. After the Nick Webb fight, I've got so much confidence. You know what, I can do what I want to do in the ring.
Lucas Browne is the perfect fight for me, stylistically. He'll come and fight – and I'll beat him.
Dillon Carman
He's a big man. He's a big Canadian man, but what Dillon Carman doesn't realise is – I'm a lumberjack. I'll chop him down like a big oak tree until he falls.
David Price
I would love the David Price fight at some point. It could be a huge fight. The plumber against the plumber smasher.
If I'm fighting David Price, I want it for the British heavyweight title. I would fight my grandmother for the British title, I'm not bothered, I would fight any man.
Nick Webb
If he thinks it was a lucky punch, then I'll knock him out for a second time, however, he is a really nice man and I wish him the best.
Don't make me do it again Nick, because I didn't enjoy it the first time.
Share if you enjoyed this post!