Last Updated: 06/08/18 10:12am
Three challenges facing Manchester City as they look to retain the Premier League title.
Last season: 1st
Title odds: 4/6
Relegation odds: 5000/1
Major ins: Riyad Mahrez
Major outs: Yaya Toure
Key player: Kevin De Bruyne
Manchester City's Premier League title win last season will go down in history. Pep Guardiola's brilliant side picked up more points and won more matches than any team before them. What's more, they did it in such style too – scoring an unprecedented 106 goals and even breaking a record for the most passes made in a single game.
Typically, City have responded by strengthening the squad. The arrival of Riyad Mahrez for a club record fee from Leicester adds even more attacking depth. Aymeric Laporte is now settled. Leroy Sane is well rested and still improving. With no key players sold, there is every reason to expect Manchester City to be every bit as impressive this season.
But the biggest reason why they are odds on to retain the title is because of the gap that already exists between them and the rest. There was a record 19-point gap to Manchester United in second and that is a huge gulf that their rivals will need to bridge. Is there any hope? Here are three challenges facing Manchester City as they look to do it all over again…
Maintaining the high standards
No team has retained the Premier League trophy so far this decade and there have been really miserable defences of the crown. Manchester United and Leicester both failed to qualify for the Champions League while defending. Chelsea did the same thing twice. There is little chance of a repeat from City but it does underline the challenge facing Guardiola.
"That is why next season we are going to be focused on the Premier League in pre-season and in the first game," he said recently. "That is the lesson we have to take. The year after is always complicated. We have to know that can happen to us. What happened with Chelsea, Leicester and Manchester United can happen with us. That is why I have to be prepared."
Focus on the Champions League
If that challenge is mental then it is not the only one. The problem of focus could also be a factor in terms of City's pursuit of the Champions League this season. It is a prize that has eluded the club throughout their history, while Guardiola himself, despite winning it as a player and a manager, has not got his hands on the trophy since 2011.
City are already installed as the bookmakers' favourites to win the Champions League this season and that now looks like a realistic target for a team that has matured. But if the emphasis is on European targets, particularly towards the back end of the campaign, there is a risk that this could open up the opportunity for a rival to nick something domestically.
Keeping this quality squad happy
At least competing on multiple fronts would keep the squad happy and that's a factor for Guardiola to consider. Gabriel Jesus' injury ensured Sergio Aguero enjoyed an extended run in the side but what happens when they are both fit? Will Mahrez start regularly and if so then who makes way? Can four centre-backs really be kept content over a full season?
Ultimately, these questions are a reminder that any of the issues facing City are internal rather than external. If they retain their focus – and Guardiola is notorious for his exacting standards – then there is little reason to expect a significant dip in performance. For the first time this decade, the reigning Premier League champions could retain their crown.
Charlie Nicholas' verdict
The worrying thing for the rest of the league is that the manager doesn't need to buy a lot of players because he did it last season. It's so difficult to win back-to-back titles but the thing about Pep is he demands humility from players and, in what is the most competitive league in the world, after suffering that first season with no trophies he will be stimulating his players to the challenge. Most people will disagree with me but I think if he was to pick a trophy to win this season it would be the Premier League, because if he can do back-to-back titles in Spain, Germany and England that would be a hell of an achievement.
In terms of the key man to deliver that on the pitch, my instinct immediately takes me to Kevin De Bruyne. He's a cool, calm guy but is driven. I remember at half-time him having a set two with David Silva, a City great, and I like that focus. He is also the key to the other parts working. The one I'm looking forward to seeing whether he's ready to step up in John Stones after a decent World Cup. If he doesn't then he'll be moved on.
Have your say?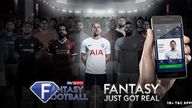 Fantasy Football is back!
Fantasy just got real. Pick your Sky Sports Fantasy Football team for free here.
Share if you enjoyed this post!