By Keith Jackson
Last Updated: 15/06/18 1:18am
Tiger Woods was convinced he had played better than his score suggested after he fired an eight-over 78 on day one of the US Open at Shinnecock Hills.
Woods got off to a horrendous start when he needed five shots just to get his ball on the putting surface at the opening hole and ran up a triple-bogey seven, while back-to-back double-bogeys – including a four-putt at the 13th – on the inward nine soured his mood further.
The 42-year-old, still without a major victory since winning his 14th at Torrey Pines 10 years ago, managed only one birdie at the fifth while dropping shots at the second and 11th as he added his name to the list of star players who need something special in the second round to make the cut.
"I didn't putt well today," said a frustrated Woods afterwards. "I thought I drove it pretty darnn good for most of the day, but I just never really took advantage of the opportunities. And making a triple and two doubles, that's not very good.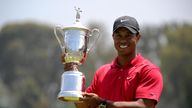 Tiger's last major
Flashback to the US Open 10 years ago when Tiger Woods won in dramatic style at Torrey Pines
"It's tough out there, but I shouldn't make two doubles and a triple. I hit two bad putts on 1 and 2, and for most of the day I just didn't putt well.
"After that start, all I had to do was to try to shoot even par for the next 16 holes, and I'd be just fine. The guys weren't going anywhere today, so I needed to hang in there. I kept reminding myself that Lanny Wadkins almost pulled himself in a play-off in '86 with a round in the mid-60s on Sunday, so it can be done. This golf course is kind of setting up for that right now.
"It's frustrating because I'm hitting it well, but in the last, I think, four tournaments, I have not putted well. So if I can putt like I did at the beginning of the year, we've got something. I just haven't done that.
"We thought there were probably seven, maybe nine, holes that could be birdied out there, but with the wind blowing, that changed dramatically. And, also, where they put some of these pins, you just can't get to them.
"It was pretty evident nobody was making many birdies in the morning. Lots and lots of bogeys and even higher in 'others'. My game plan was not to make any 'others', and I made three of them. So I didn't do very well there."
Despite his opening-day struggles, Woods is adamant he can turn his fortunes around and recover with a sub-70 round early on Friday that would get him in position to mount a weekend charge.
Live US Open Golf
June 15, 2018, 1:00pm
Live on
"If I shoot something in the 60s tomorrow, I'll be just fine," he added. "I just think today was the toughest day we'll have all week. But then again, I think they're going to let these greens firm out a little bit. They'll start to pick up a little bit of speed, and it will be a good US Open again."
Share if you enjoyed this post!